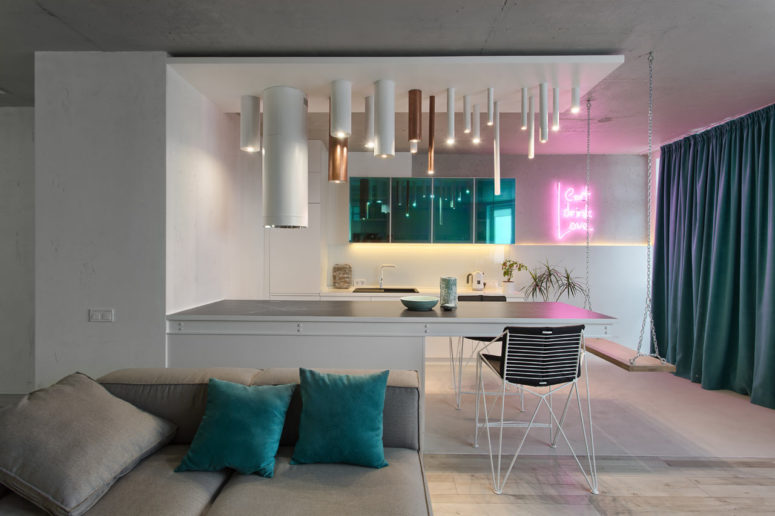 Sometimes minimalist interiors feel too cold or too boring but the apartment we are sharing today is none of that kind. This space in Kiev by Ukraine based interior designer Lauri Brothers is a gorgeous 100-square-meters home spruced up with bright green and pink neon.
The interior start minimally at the entryway with a simple wardrobe hanger, a planter, and a framed mirror, all in white, and continues on with unexpected pops of color, neon lights, a swing, and a "WAKE UP BITCH" message above the bed.
The all-white kitchen features an island that turns into a dining table with an end seat that's a swing. Yes, a swing! Such a playful solution. Above is a series of cylindrical lights with the exhaust hood cleverly disguised as one. The upper cabinets pop against the surrounding white surfaces with metallic green glass. Next to that, a neon sign that reads "Eat, Drink, Love" adds another striking details to the kitchen.
The living room sets a casual tone with sectional sofa pieces broken up and light wood floors. The bedroom features a floating bed with pink neon lights embedded underneath and the infamous message written above. At one end of the bedroom is a wall-to-wall window with views of the city and the Dnipro River. The elevated platform makes for a cozy spot to watch sunsets from the 21st floor. The master bath is outfitted in square pink tiles and one green wall, while the guest bathroom is decked out in matte black tiles. Get inspired by these amazing spaces!