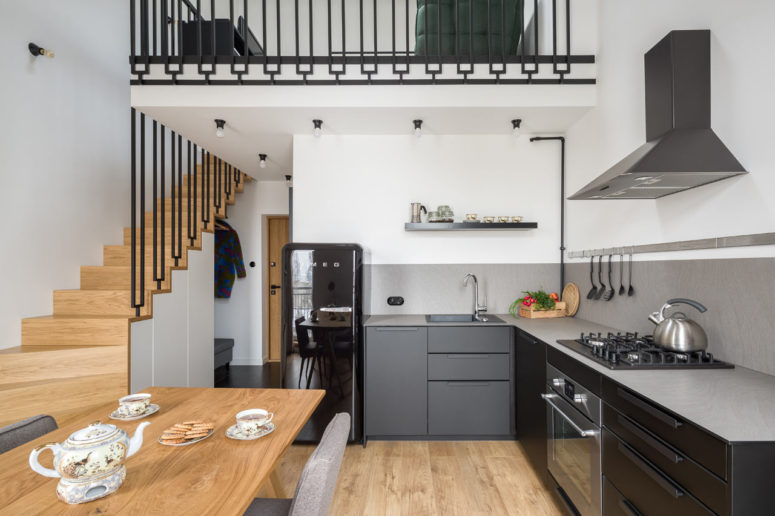 With its compact footprint, the Flat in a Tenement House required creative thinking by 3XEL Architekci to maximize space for a young couple, which included adding a mezzanine. The main level of the Lodz apartment is quite small with just the kitchen, dining room, and bathroom. Despite its 55-square-meter size, the interior manages to feel open and cozy with plenty of character.
The living room was relocated to the mezzanine where it shares the space with the bedroom. The simple kitchen avoids looking more cluttered by not having upper cabinets. The lower cabinets feature matte black fronts, a gray countertop, and sleek black Smeg fridge. The darker elements, which includes the black steel balustrade along the stairs and mezzanine edge, are balanced with warm wood floors and wooden elements.
Oversized anthracite tiles clad the entryway and continue up the wall within the recess under the stairs, which was designed as a place to hold coats and shoes – this is a very smart solution for saving space in a tiny entryway. Just off the living room, the bedroom resides under a slanted ceiling with a skylight that provides much needed natural light. I love the calming color scheme of the bedroom: light-colored wood, white and pastel green, and bedding that matches to create a soothing space.