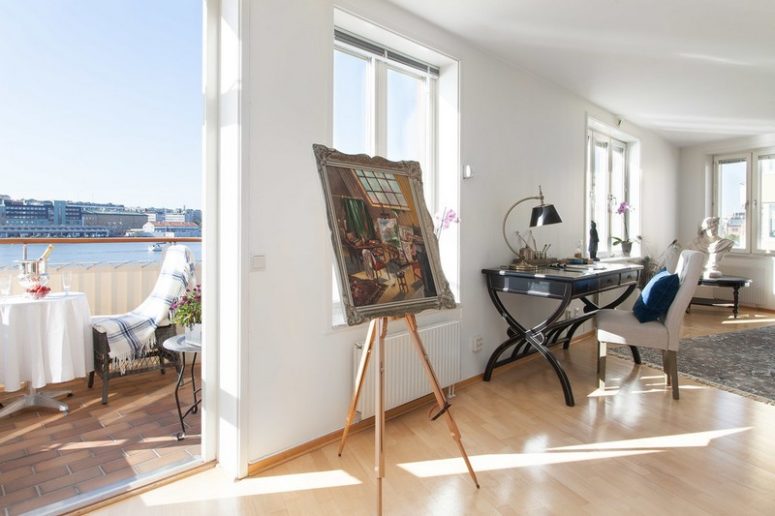 We are used to see Scandinavian spaces done in the traditional black, grey and white, with natural touches but the apartment we are sharing today is none of that kind. This three-room apartment overlooking the city of Gothenburg, Sweden is located on the top floor of a building that offers panoramic river views, and that's why you'll see a lot of water-inspired touches in the decor – the so-called Scandinavian decor with a touch of water views.
The core of the apartment is an open plan living and dining area, which sets the tone for a bright, welcoming home. There are Scandinavian influences: the wood flooring and white walls and decor, and modern furniture is blended with some antique pieces; an artist's frame adds elegance to the decor. I totally love blue touches throughout the apartment that echo with the river views outside.
The living room's glass openings are reflected in a mirror that covers an entire wall. This way, bay views become a fundamental interior component. The south-facing balcony has sunshine from morning to evening, and is a lovely place to enjoy the company of visiting guests. If it's too cold, there's an inner dining zone, too: a cozy wooden dining set and gorgeous river views incorporated.
The kitchen is done in white and touches of natural wood, which makes the space cozier and comfier. The bathroom features grey bathroom tiles on the walls and black marble ones on the floor, a couple of windows fill the small space with light. Get more of these chic spaces below!