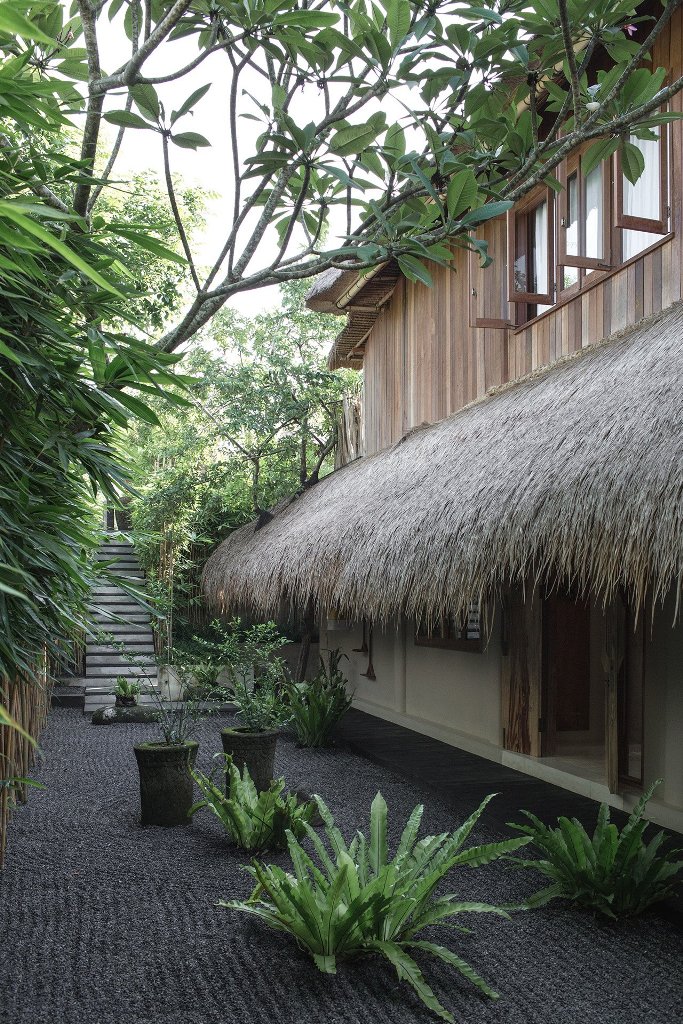 Rumah Purnama, which in Bahasa Indonesian means "The House of the Full Moon", is a 100-year-old Balinese wantilan home that Bali-based designer Maximilian Jencquel brought back to life two years ago, thoughtfully renovating and turning it into a holiday retreat. Restored over a period of one year though an adaptive, sustainable design approach, the pagoda-like, two-storey house harmoniously blends in with its natural surroundings thanks to the use of natural materials such as tropical wood and cogongrass, locally known as alang-alang, which lines the thatched roofing. Adding to its mystical, Zen ambience, the house is ceremoniously reached through an overgrown traditional Balinese door that opens onto to a winding garden path leading to a sunken, bamboo-lined pebble garden.
The use of natural materials continues in the interior, where a subdued palette of natural hardwoods, earthen wall coloring, marble surfaces and off-white linens imbues the rooms with a soothing, grounded feeling. Complemented by a series of hand-crafted furniture, many of which have been designed for the project by Studio Jencquel, and an eclectic art collection that embraces earthy tones and natural motifs, including pieces by Jencquel himself, the house is paradigm of subdued elegance, authentic craftsmanship and laidback living.
Indonesian hardwood floors, soft natural carpeting from Sumatra, and mosquito net bed canopies imbue the bedrooms with a soothing ambiance as well as harmoniously complement the verdant views courtesy of panoramic windows. But perhaps the best place in the house to take in the surrounding nature and tap into the soulfulness of the area are the open-air showers in the Mead and Chaplin guest rooms that offer amazing 360° views. From all the perks and comforts one could ask for in such a tropical location, this takes the cake, evocatively encapsulating the house's inspirational power and enchanting allure.