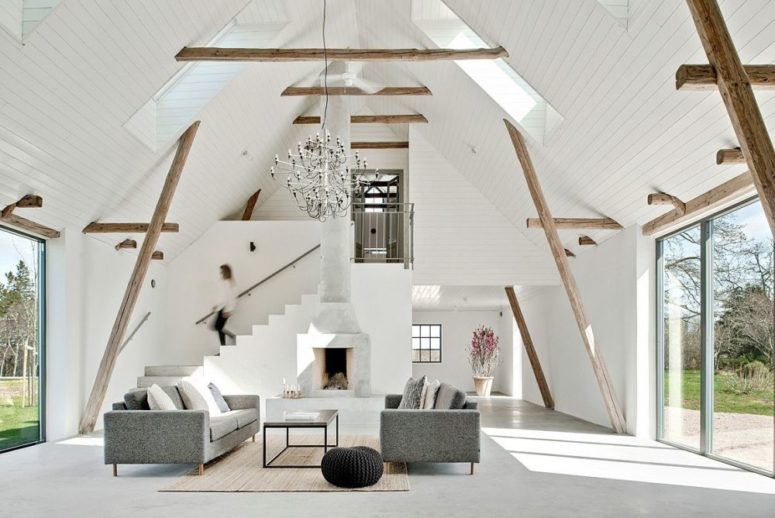 This home is a renovated and transformed old barn in Sweden, which was originally built in 1901. After being abandoned for a very long time, it was brought it back to life and transformed it into a beautiful and modern home by architect Jonathan Andersson.
The converted barn features an L-shaped floor plan and a total of 390 square meters (4,200 sq ft) of interior space. The interior design is a combination of modern minimalism and rustic charm, white being the main color used extensively throughout the spaces. The polished concrete floors and exposed wood beams complement the white walls and ceilings and give the rooms a simple and at the same time refined look with rustic flair. The lack of color is balanced by the presence of numerous different textures and finishes throughout the interior design. Floor-to-ceiling windows and skylights bring in an abundance of natural light and emphasize the house's open and airy feel.
The house includes four bedrooms and a great room which is basically an open plan kitchen, dining room and lounge area. Despite of the fact that the living area has a super high ceiling and white walls, it doesn't look cold or empty. The open kitchen features skylights and the same monochromatic decor as the rest of the house. The bathroom is surprisingly one of the most colorful areas of the house, featuring a soft gray tone on the walls. Get more of this beautiful home below!