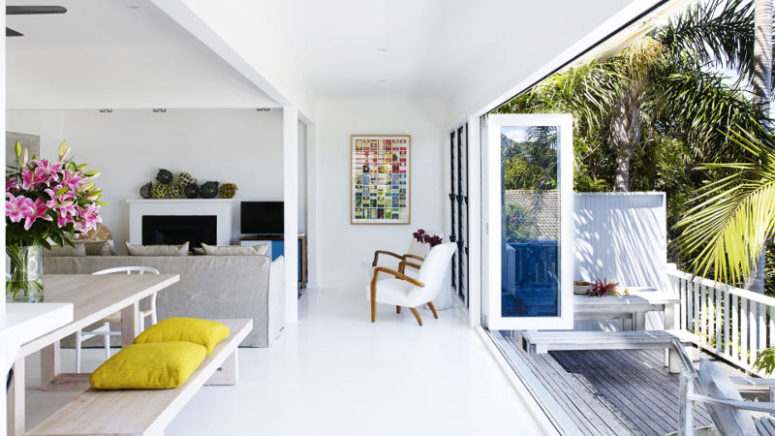 Feeling like going on holiday? If you can't do it now but still want to feel the sea breeze, I have an eye-candy for you that will let you feel the breeze for sure. This beautiful beach front home is stylish yet easy going with stunning water views.
White was chosen as the main décor color because it reflects the light and creates a cool backdrop for any bold shades. The space has an open layout, and the kitchen, dining area and living area are united into one. The fireplace features large glass floats covered with net to remind that it's a waterfront villa. The furniture is white and neutral, with lots of light-colored wood in décor, the dining area can be opened to outdoors. The kitchen corner is a small and white one, very functional. The space is opened to a terrace with loungers with an amazing view. The terrace also features a dining zone with lots of greenery around and completely protected from the sun.
There are several bedrooms, and white and neutrals really rule here. The first features whitewashed furniture, a vintage chandelier and a cool cactus photo artwork on the wall. The second bedroom is also whitewashed and neutral but with a very bold patterned blue bedspread. The guest bedroom with two beds has textile colorful touches: bedspreads, pillows and curtains.