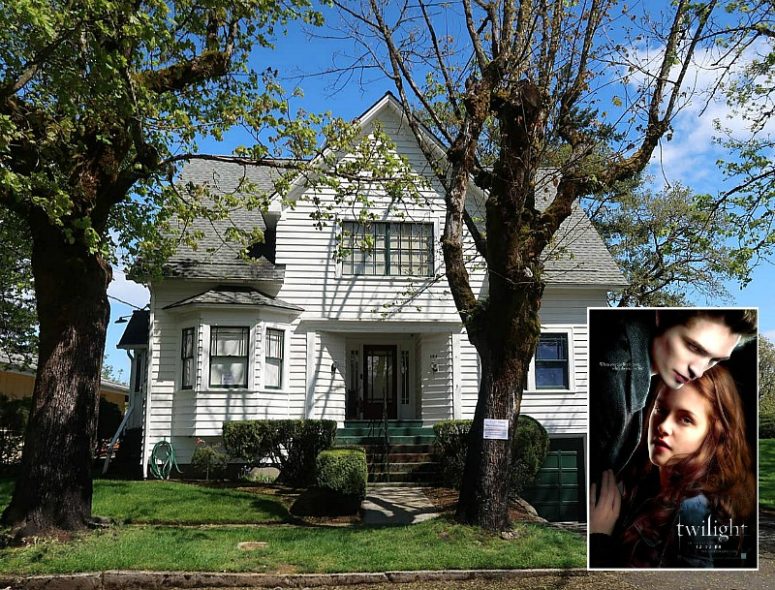 Are you a fan of Twilight movies? If you are, you gonna scream with excitement – this is Bella Swan's house from Twilight!
The house is located in St. Helens, Oregon and was built in 1935; it's in a quiet neighborhood in downtown Saint Helens, within walking distance to the historic riverfront, short drive to Portland. The house was chosen for the movie because it hadn't been updated too much since then. Twilight was filmed on location inside this house in 2008. Fans from all over the world sent the owners items that appeared in the movie so they were able to recreate the look of the rooms a decade later.
To prepare the house for its screen debut, the production crew painted the exterior and most of the rooms inside. The owners had a choice: they could have their house repainted in the original colors, select new colors or keep the ones chosen by the production designer. The owners kept the film's color palette: blue in the living room, yellow in the hallway and green in the kitchen, which are all complementary colors. All of the doors in the house had been painted over the years. The filmmakers removed the layers of enamel paint to restore the original wood before shooting the movie here.
The house has 5 bedrooms and 1.5 baths. Many of the original details from the movie can be seen in the house today, including this ship above the brick fireplace. The retro green kitchen still has its vintage appeal, and they say they have no plans to change it.