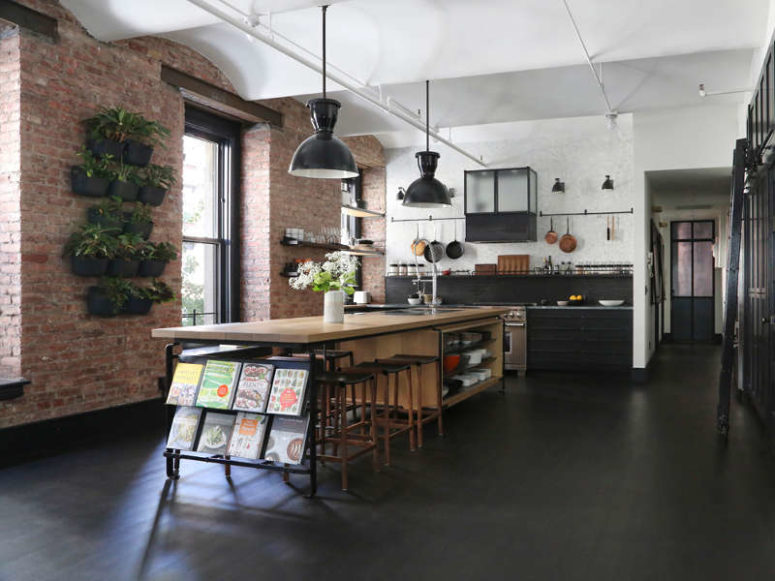 Today we are spoiling you with an industrial eye-candy! This loft in New York is a fine example of an industrial yet very cozy loft created by Union Studio. Let's take a closer look at the spaces.
The main space is a large open layout that comprises a kitchen, a dining space and a living room. the walls are of red exposed brick, which contrasts black wood used for furniture and floors. The kitchen shows off black cabinets and a long warm-colored wooden kitchen island, there are large mid-century modern lamps and cool matte black planters on the wall to grow herbs. The dining zone features a whole wall covered with bookshelves and a long marble dining table. Pendant spheres illuminate the space. The living space has a large black leather corner sofa, a matching chair and a statement geometric art piece.
The master bedroom strikes with a black tile headboard wall that looks so cool and features a large windowsill, which comes along all the windows and serves as a seat and a storage piece. Comfy textiles and upholstery soften the space and make it more inviting.
The master bathroom features the same brick walls and a tile floor, and warm-colored wood cabinets and a free-standing bathtub make it look luxurious and chic. there's also a shower hidden behind the bathtub, with frosted glass doors.
This loft is one of the finest examples of chic industrial style with vintage touches, everything here perfectly fits and looks as if it was always there, bravo to the architects for such attention to detail!