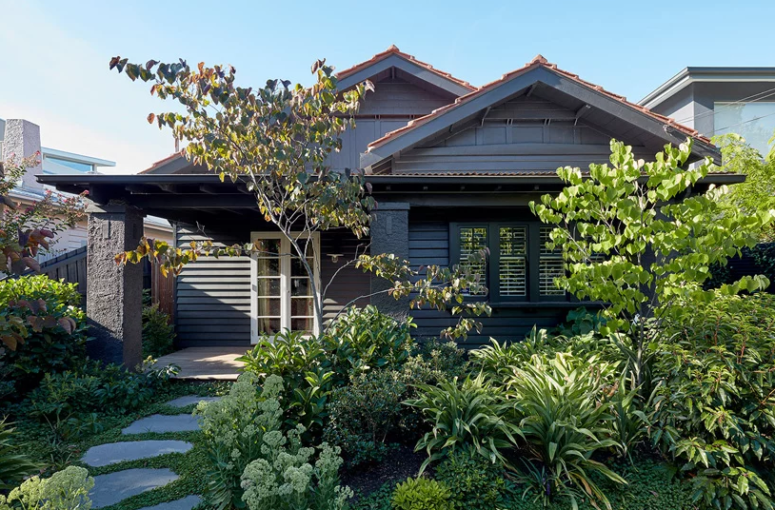 This Californian-style bungalow called the Elwood House in Australia was renovated by architecture firm Splinter Society. Drawing on the owner's diverse range of personal objects, interests and places of travel, the designers created a home rich both in narrative and texture.
The architects decided to create a home full of simple yet meaningful details. They drew inspiration from bungalow architecture as well as the rustic, Japanese aesthetics to create an elegant, but unpretentious living space. In addition, by integrating the client's eclectic collection, the objects form a deep, personal connection to the spaces for a more meaningful function.
Keeping the existing house and its traditional character, the layout includes the bungalow's signature side entry, central hallway and adjoining small rooms. In line with the standard bungalow style, the new interiors use dark local timbers offset against stucco and hard plaster, creating a texturized material palette and play of colors and light. To retain a cozy, cottage feel, the renovation focuses on a sense of inward privacy and connection to the garden. Each space is small and custom-made for one, specializes in one function and can be expanded for a larger gathering space. The enlarged areas feel like a private retreat: relaxing, warm, safe and unassuming.
The landscape surrounding the house inevitably became a part of the design as well. From the entry, the garden provides a sense of privacy and refreshes the traditional architecture. The garden is framed through openings throughout the house, creating continuous connections to the exterior. At the back of the property, the garden provides the ultimate retreat, including a modest pool and stunning greenery.