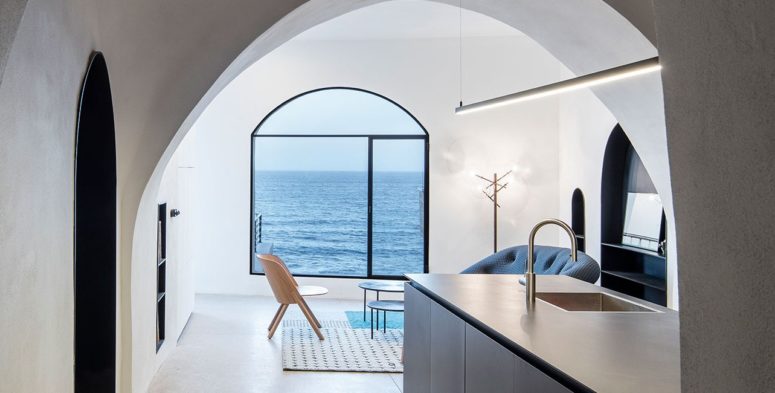 Pitsou Kedem architects has refurbished a historic apartment in Jaffa, the ancient port city located south of Tel Aviv's urban center in Israel. Conceived as a 'modern cave', the project involved restoring the original scale of the structure's various volumes, while simultaneously illuminating the dimly lit spaces. In order to bring daylight into the home, the design team oriented the living accommodation towards the sea, which — thanks to new sightlines — remains visible throughout the scheme.
Pitsou Kedem architects has united the existing spaces, transforming them from small individual rooms into a sequence of brightly lit, functional spaces. The design team began by removing decoration from the ceiling arches and covering them in white plaster. Conversely, the original dome above the kitchen, previously covered in layers of plaster, has been uncovered. Finally, a new concrete surface with accented stones makes the apartment's floor level consistent.
The rooms making up this old Jaffa apartment came together over hundreds of years — each with its own character and ground level. The newly integrated spaces are not closed with doors, but left open — allowing views to the sea from each one of them. consequently, in addition to their designated function, the spaces also serve as a transitional hallway. Black tin has been used throughout the scheme to emphasize doorways and to hide new technical systems. Get inspired by the gorgeous photos below!