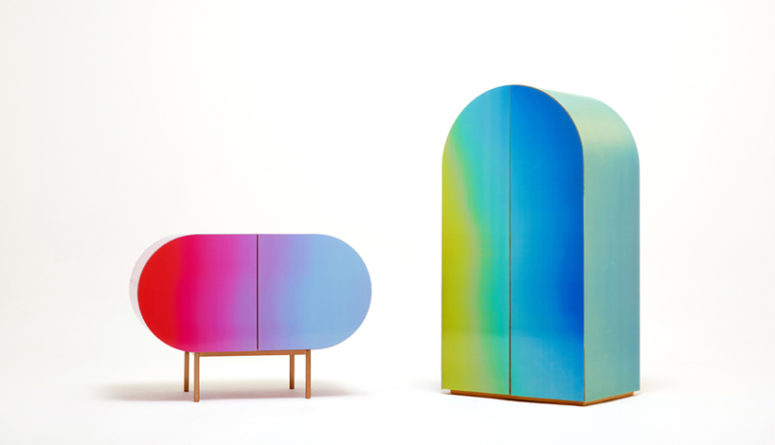 If you like vibrant colors and shades, and are looking for bold furniture designs, look no further! Asian designers are always ahead of time, and the collection we are sharing today will prove it once again. The mini collection  called "Color Flow" by Korean-based studio Orijeen is super bold and chic shows off beautiful gradients created with lenticular technology.
Lenticular technology is a high resolution process that creates visual effects. If such printing is applied to the surface of the furnishings the perceived changes of color may occur. There's an illusion of depth or the ability to change or move as the image is viewed from different angles. The colors are changed due to your position to it.
The collection consists of a two storage units, a freestanding wardrobe and a small sideboard. The futuristic design is given to the furniture not only with colors but also with bold curved shapes. The small sideboard ranges in shades of pink, blue and purple, whereas the wardrobe ranges in shades of blues and greens. Such furniture will make a bold statement in your interior, it's a chic and eye-catchy touch and will raise your mood with vibrant shades, and I assure you – you won't see anything like this in other people's homes, so bring this unique touch to your space!