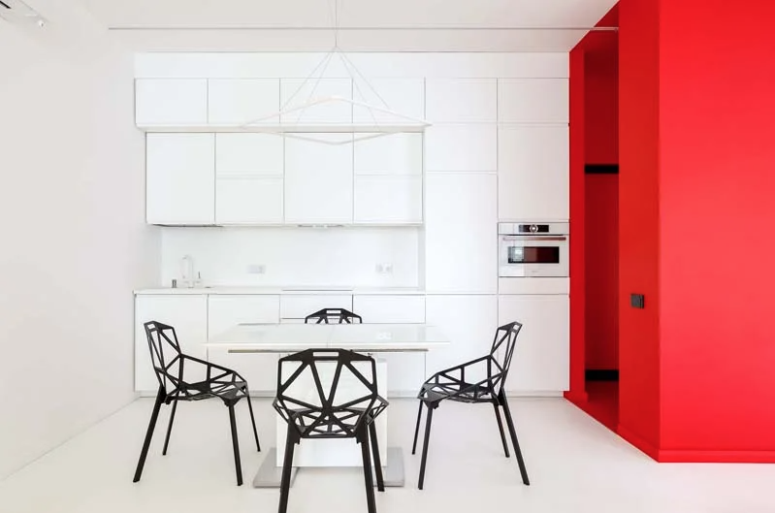 Rustem Urazmetov has completed his residential interior design project Mondrian, in Moscow, Russia. The architect has applied a non-standard interior color scheme, in an attempt to express the individuality of the owners through bright colors and minimalist shapes.
The open-plan apartment by Rustem Urazmetov was designed for a young couple with a child. The living room, kitchen, hallway and bedroom form a single open area, while the bedroom can be separated by glass partitions and curtains. The toilet and bathroom were divided, with the latter including a shower area and a sauna. The style of the interior echoes of 20th century avant-garde art and Bauhaus school, and is especially influenced by the work of Piet Mondrian.
All functional areas feature a specific color, and the main volume of each room is monochromatic and graphic. In this way, the focal elements in the apartment are emphasized, as for example the entrance and bedroom in the open-plan living room. The living room is visually separated by a bar, which adds the necessary graphicity. The bedroom is painted yellow, unusual for private premises, but given the cloudy and gray Moscow weather, this color choice helps brighten the interior. The nursery area has been painted with a similar color.
In addition to the general style, the basic principles of ergonomics of the Bauhaus school were also taken. Each function in the interior is thought out for the needs of the owners of the apartment. The lighting is as hidden as possible, using built-in LED profiles. Each room has several lighting methods designed so that all areas are lit with different intensity, creating a common filling light or accentuating certain elements of the interior.