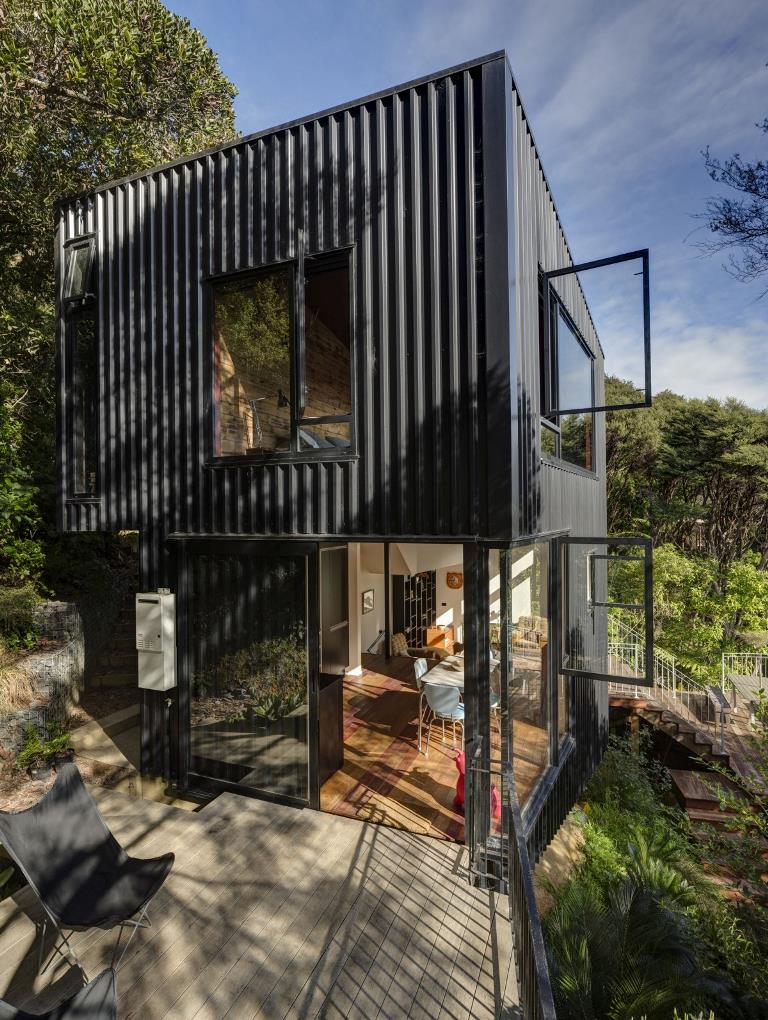 This black house was built by studio Glamuzina Paterson Architects and it occupies a steep site in New Zealand, accessible from the top and through a winding path among the trees. Why black? It's an attempt to establish visual harmony between architecture and nature. The house has a tower-like design because the owners wanted a house among the tree canopies and wished to preserve the surrounding landscape as best as possible. It features a ground floor with a small footprint of only 47 square meters and additional upper floors that get even smaller, measuring 34 square meters across.
The house was built on a modest budget and maintains a simple aesthetic inside and out, based on functionality. The two outdoor decks follow the contours of the land and establish a close connection between the interior spaces and the outdoors. The North-facing facade is fully exposed to the beautiful tree canopies and has large glazed surfaces which frame these lovely views. The interior of the house is organized of four split levels, creating clear distinctions between the various different areas and their specific functions.
The kitchen and dining room for example are slightly elevated, creating the impression of a sunken living room. At the same time, the living room is a double-height space which feels very bright, airy and spacious despite its reduced dimensions. The use of reclaimed wood for the flooring and the warm and earthy selection of finishes and colors creates a very pleasant and comfortable atmosphere throughout the entirety of this black house.