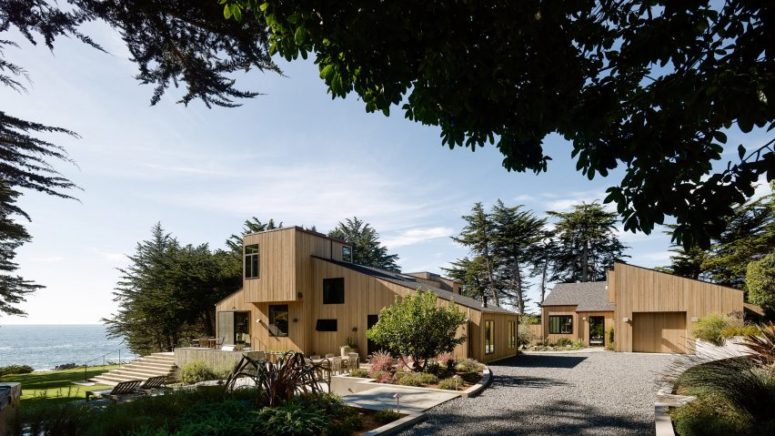 This holiday home is a 44-year-old, wood-clad residence that overlooks the Pacific Ocean. In my opinion, the renovation made by Butler Armsden Architects made it a perfect holiday retreat with flawless contemporary interiors and a unique feeling of unity with the nature around.
The house is situated on a rocky site overlooking the ocean and dotted with cypress trees. The design team decided to retain original features while adding more space, and updating the finishes and decor. The home was re-clad in vertical boards of cedar, which replaced redwood siding. A new two-storey volume was added to the north elevation to house an office. There is an outdoor space with two dining spaces and a small outdoor kitchen to enjoy the views outside and enjoy dining.
Inside, windows of varying sizes frame views of the picturesque landscape and bathe the rooms in natural light. Every room has a magnificent view, even a bathroom, and those minimally framed windows create a feeling of being amidst nature. Several spaces also feature amazingly comfortable nooks to enjoy the views – everything here is very livable. Rooms feature contemporary decor and an earthy color palette, helping create a serene atmosphere. Light-toned wood was used to sheath ceilings and walls, it recalls the exterior of the home. The furniture is contemporary and very laconic, too, it features neutral and muted colors because nothing in the interiors is to distract people from gorgeous nature.