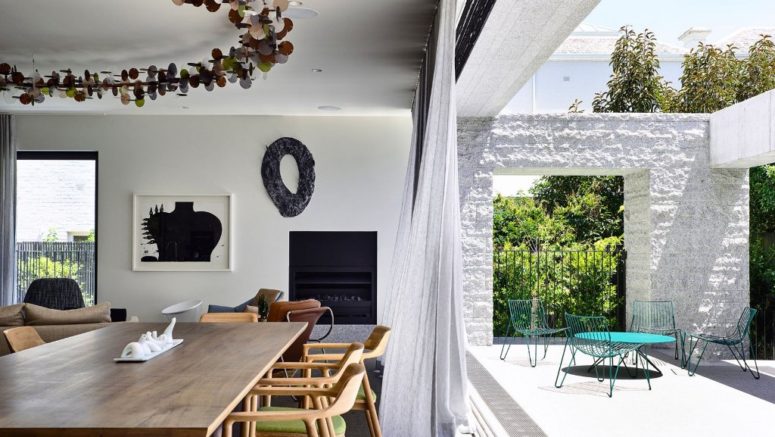 Located in Armadale, an up-and-coming leafy suburb of Melbourne, Australia, this monolithic-looking residence by b.e architecture appears as if it has been carved rather than built. The house is characterized both by a sculptural heftiness and an ethereal weightlessness, most seen when the sunlight illuminates the stone's texture.
On the ground floor, the generously day lit, open-plan living space completely opens up to an adjacent courtyard, courtesy of fully retractable, floor-to-ceiling glazed doors, purposely designed to cater to the owners' frequent entertaining. On the upper floor, the private quarters include two guest bedrooms and a spacious master suite that opens onto an internal courtyard planted with Japanese maples and featuring a discrete outdoor shower while a granite-lined en-suite bathroom, which features a free-standing bathtub and a hefty basin block carved from solid blocks of stone, provides another space of serenity and relaxation.
The interiors remind of the paradoxes of the exterior: minimalist aesthetic of stone floors, white walls and trim are completed with a whimsical selection of furniture that ranges from modernist classics to vintage pieces and bespoke designs that playfully reflect the clients' personalities.
The outdoor spaces are carefully landscaped to create a wildly natural look, and a large pool with balconies over it looks very inviting. The designers and architects gave attention to every detail to make this house a masterpiece, and they succeeded!