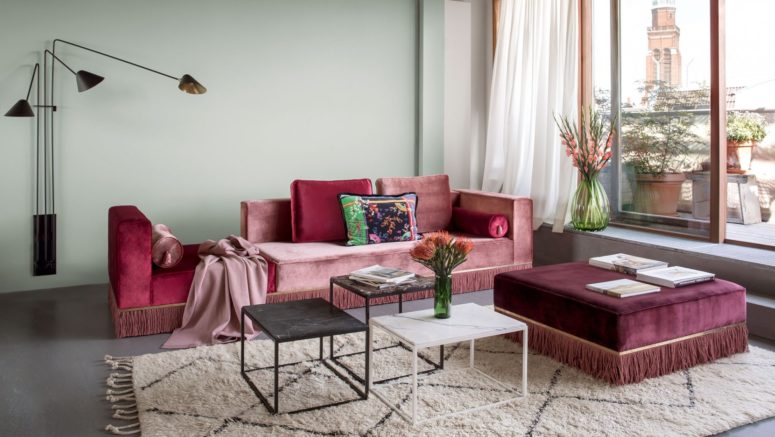 This idiosyncratic apartment that encapsulates all the qualities of Ester Bruzkus architecture (she's the owner of this home) and interior design practice Ester Bruzkus Architekten: efficient planning, playful material and color juxtapositions, bespoke furniture, and exquisitely crafted details.
The apartment is a loft stretching between the building's east and west glazed facades, with a series of geometric volumes that divide the apartment in separate yet connected areas, narrow raised platforms, which run along the length of the wall-to-wall windows, were introduced into the interior.
A central structure of light oak conceals the private quarters without interrupting the wall-to-wall windows and has carved out an L-shaped living and dining area. On the side of the dining room, a kitchen unit has been incorporated into the oak structure, featuring a terrazzo worktop and pink cabinets which gracefully complement the adjacent green dining table, a bespoke design whose soft curves taunt the rectilinear cabinetry. The designer enjoyed creating contrasts between a candy-like color scheme and rough materials like terrazzo and concrete. An austere wall of gray-painted wooden slats conceals a brightly painted blue wardrobe, the oak-paneled volume contains a cubist bathtub of light gray marble terrazzo.
An exterior staircase leads to a private roof garden designed in collaboration with landscape architect Anja Knoth, offering sweeping views over the whole of Berlin. Conceived as a series of volumes and platforms and styled with oriental references, the garden shows the unique style of the owner. Enjoy the pics of this unique home below!