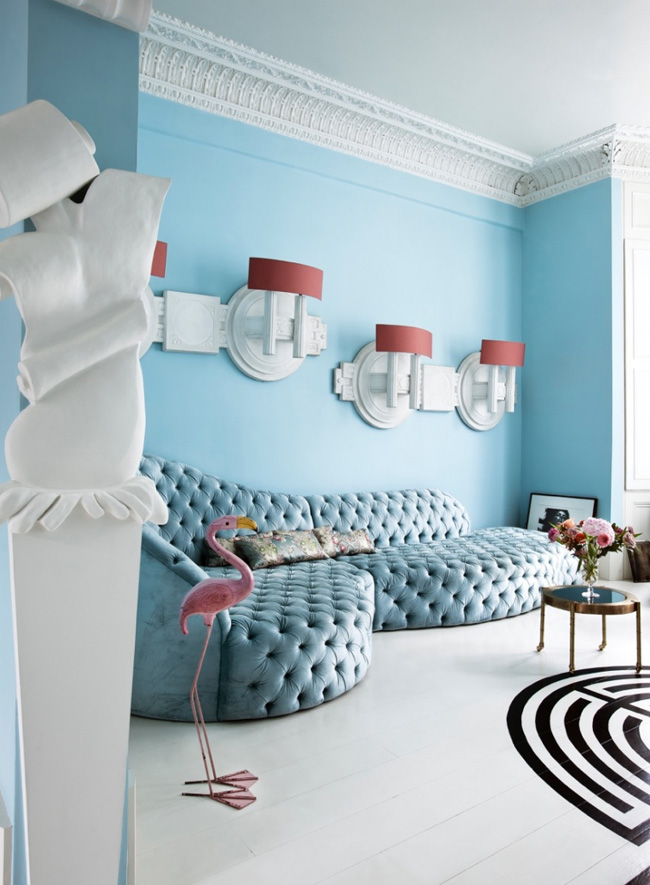 This unique apartment in South Kensington is beautiful space with strong splashes of blue and a stylish eclectic style throughout. Let's have a closer look at this unusual home.
The living room is a light-filled spacious room with lots of serenity blue in décor: its walls and some furniture are in this shade. A diamond upholstered serenity blue sofa is a focal point of the room, and there are also two matching chairs by the window. The floor is white but with an eye-catchy geometric pattern done in black. Whimsy red wall lamps and a cool white fireplace and bird figures make the room even more eye-catching, and that serenity blue and white combo looks refined and relaxing.
The bedroom is an oasis of pure relaxation, I bet that this color perfectly fits rooms, where you want to have a rest. Besides that beautiful blue shade I'd like to mention the amazing and refined white stucco on the walls, which gives the room a luxurious feel. Uncluttered spaces always look bigger and airier, so the bedroom is also like this. Look at this wardrobe, it's so whimsy and reminds of a safe. Unique and refined furniture continues the bedroom décor theme.
Here we can also see the bathroom, it's done in black and white tiles clad with a geometric pattern but its ceiling is of the same blue shade as in the other spaces, which connects the bathroom to the other rooms.