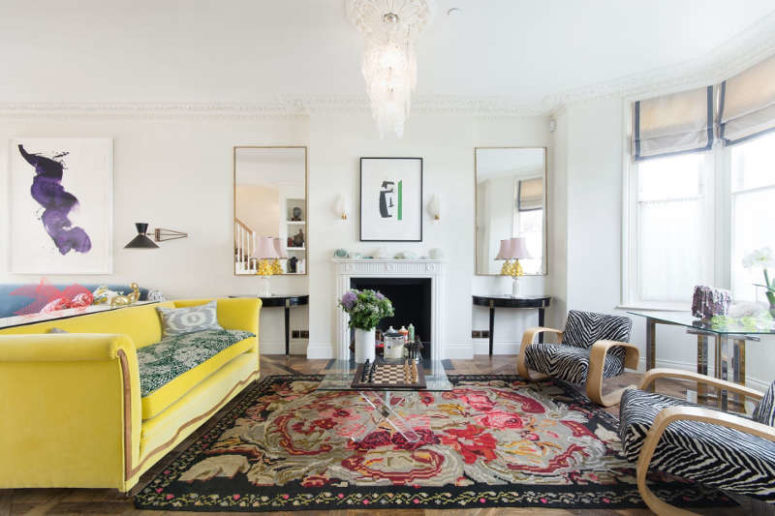 This gorgeous home in London features a look rooted in tradition, the interiors of this chic five-bedroom home also draw on eclectic, contemporary design to stunning effect. Grand proportions provide the perfect stage to showcase bold colors, ornate wallpapers and statement art. Let's take a closer look at it.
The living room features a bold yellow sofa, zebra printed chairs, a faux fireplace, colorful artworks and a gorgeous printed rug. The second part is done with a blue sofa and an upholstered printed coffee table. The space is colorful and interesting, and there are a lot of eye-catchy details, the more you look at it, the more you see.
The dining space is done with a vintage non-working fireplace, a wooden table and coral chairs. The space also features some artworks and colorful rugs, this is a part of a large open layout and it's filled with light. The kitchen is done in graphite grey, with coral printed tile backsplashes, a marble kitchen island and pendant lamps.
The master bedroom features a floral print upholstered bedroom and matching curtains and nightstands with floral covers. The second part features a non-working yet chic fireplace, a gorgeous creamy lounger and a wardrobe covered with floral print fabric.
The master bathroom features floral print walls, a marble shower and vanity plus brass touches. A vintage free-standing bathtub painted blue is a gorgeous statement piece in this bathroom. Get inspired by more spaces of this home below!