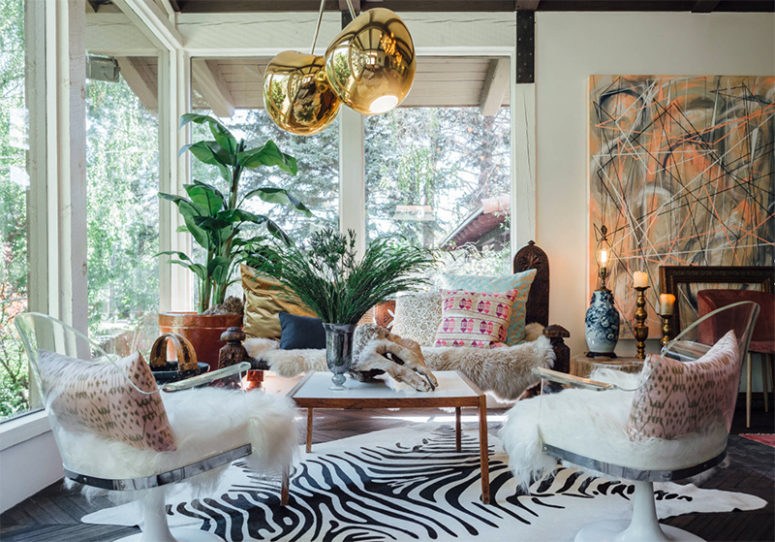 I extremely love homes, where you can see more and more details looking at them longer. This unique home is one of them: the architecture reminds of the mid-century with Spanish touches but the decor is retro mixed with modern and ethnic and a bit gothic – such a fantastic mix! Let's have a look at the rooms of this gorgeous home.
My favorite space is the living room, it's defined by a whole glazed corner with much greenery outside, and the living space is done with a zebra print rug, acrylic chairs, a vintage sofa and eye-catchy large brass pendant lamps. The furniture is covered with faux fur blankets and pillows to give it a boho feel, and lots of pillows with different prints make the nook eclectic. Potted greenery connects the space to outdoors. There are some vintage accessories, tree stumps and a large colorful artwork.
The dining space comes next, and it's done with a large oval table and dusty pink velvet chairs. Black ceiling beams and a fantastic geometric bulb chandelier over the table make the dining area more eye-catching. you can see a large wood piece bench covered with faux fur, and a built-in fireplace, which is working. There are vintage artworks, a floating bench and some built-in bookshelves – this space breathes with vintage and exquisiteness.
The kitchen screams Gothic, there are sleek matte black cabinets, rich-colored natural wood and marble countertops and a very eye-catchy geometric wallpaper wall. Creative chairs and stools and unique pendant lamps make the kitchen more interesting. Get more of these eye-catchy eclectic spaces below!