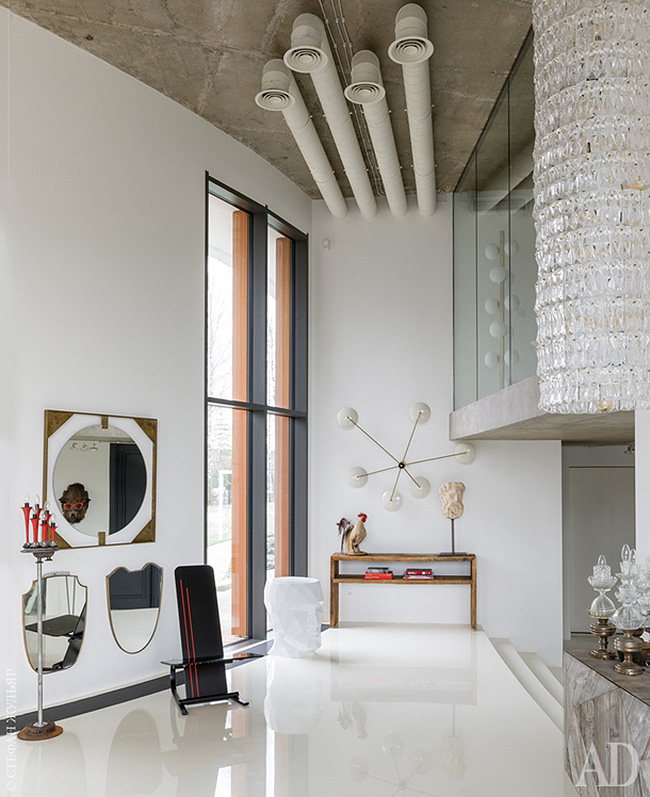 This eclectic home filled with art is located in Moscow and was designed by Anna Erman. Lots of quirky art pieces are displayed throughout the home, even in the kids' room. Let's take a look at this gorgeous space!
The living room, kitchen and dining space are located into one cool space filled with natural light coming through large windows. A large sectional space in front of a vintage fireplace, over which you can see a bold faux animal head sculpture. The dining space is done with mismatching white chairs and one outstanding black, and you can see unique sculptural chandeliers in black and white, with various hangings.
The kitchen is black, it's done in black wood and black metal. There's a crystal chandelier, a concrete console as a breakfast table and some interesting high stools. The kitchen is located lower than the rest of the space to visually separate the zones.
The master bedroom is done with a white upholstered bed, with a mid-century sideboard, a lavender scallop chandelier and a vintage chair. The space looks very refined and chic, clean and inviting. The kids' bedroom is done with grey and blue furniture, you can see some colorful accessories, bold artworks and an interesting sculpture.
There's also a large swimming pool inside, thanks to extensive glazing it merges with outdoors, and there are very eye-catchy chandeliers, and a very large man's sculpture in black that makes you think of ancient Greek statues.