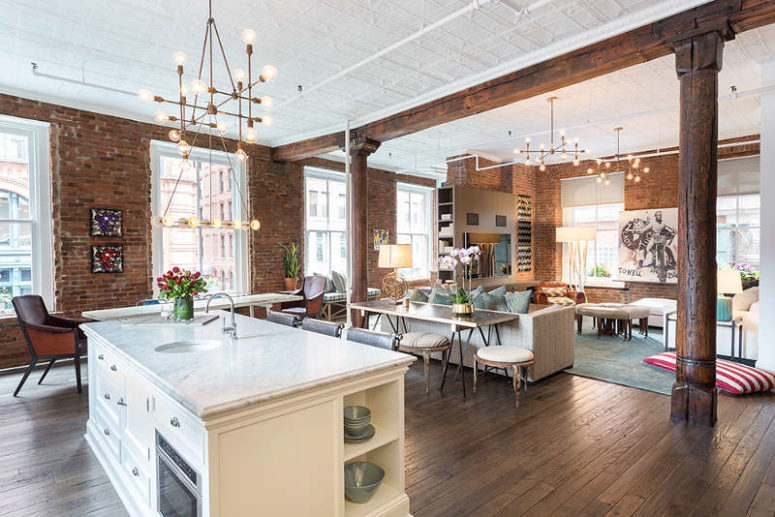 This Soho loft by Drew McGukin Interiors is an eclectic mix of urban chic, vintage finds, industrial riffs and personal treasures. It's stylish yet relaxed and livable, let's take a closer look at the spaces.
The loft has an open layout, where the dining zone, living room and kitchen are united into one light-filled space. Original wooden beams and exposed brick walls definitely give the space a cool look and personality. The furniture of the living space is mismatching, there's a shabby chic coffee table, a leather chair and an abstract bold artwork on the wall. Actually, there are many bold and eye-catchy artworks throughout the whole space, they enliven the interiors.
The kitchen features white cabinetry, white tiles and a large kitchen island with a marble countertop, which is used as a breakfast nook also. The whole open layout is united with the same industrial lighting fixtures but the dining area stand out with a different one. There's a simple white wooden table and benches and some blue chairs.
The bedroom is more private, there are wooden floors and an exposed brick wall, which makes the décor more textural. The big upholstered grey bed is accentuated with a grey leather bench, and neutral-colored textiles add coziness to the room. The bathroom is clad with white tiles, and dark stained wooden accents create an eye-catchy contrast.