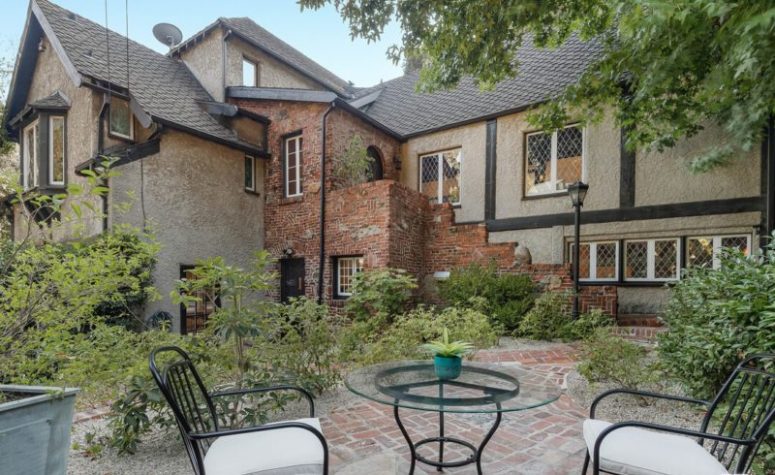 This English Tudor Revival-style home in Los Angeles still looks much the same as it probably did when it was built in the 1920s. It has many of its original details, including diamond-paned windows, dark beamed ceilings, and vintage tile bathrooms.
This is a truly rare estate that exudes all the glamour of old Hollywoodland and the charm of LA's best Storybook homes. You may see delightful hand-carved dark wood doors and beams, and three whimsical brick fireplaces. The manse has a smart floor plan with 3 levels of well thought out usable space, both grand and cozy, for a practical modern lifestyle. The dramatic living room with its soaring ceiling, the large private study, the dining room, and the TV room wrap around the picturesque courtyard at the heart of the property and beautifully meld with the surrounding gardens. The 4,423 square-foot home has 4 bedrooms and 4 baths.
Bright and heavenly, the updated kitchen is complete with a gorgeous window seat and a smooth flow to the breakfast room. Upstairs are the true master en suite with canted ceilings, captivating chandelier, and original bath, and two comfortable bedrooms with a jack-and-jill bath. The large lower level "speakeasy" is a fabulous luxury in itself with its own entrance and home cinema.
There's versatile office space perfect for working from home and outdoor entertaining in the front gated garden and on the expansive deck with hot tub running along the side garden of the property.