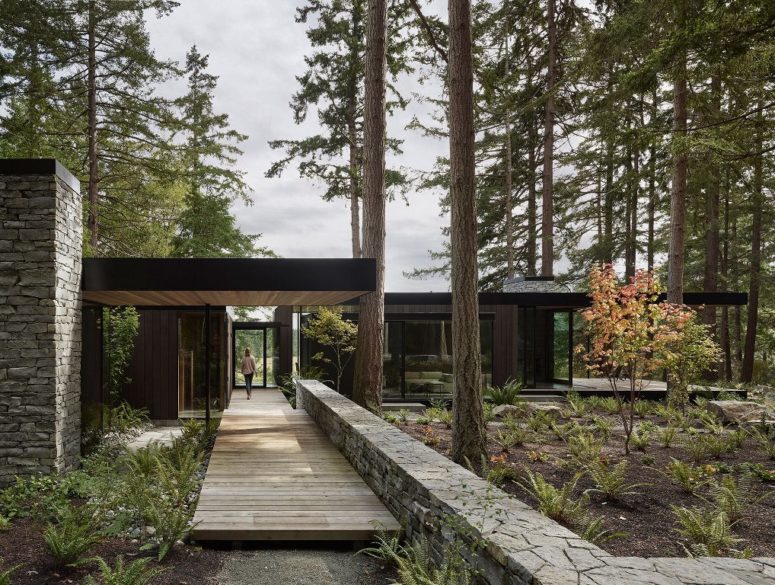 Tucked into the edge of a densely forested hillside on Whidbey Island, this home to a mix of artists, craftspeople, farmers, and sea captains, Whidbey Farm was conceived as a nature retreat for a multi-generational family Seattle studio mwworks have taken advantage of its scenic location to immerse the house into the landscape in a discrete manner. A palette of local, durable materials and natural finishes, combined with the modernist ethos of less is more, subtly imbues the house with a rustic aesthetic that nevertheless feels contemporary.
At the owner's request, great care was taken to preserve the large firs on site so the house's massing slips between them as it wraps around a modest clearing at the edge of the forest. Defined loosely by a locally sourced, low stone wall, the clearing has been subtly transformed into a natural courtyard filled with native shrubs and ferns and crossed by pathways. Built around the courtyard, the house consists of two modestly-sized rectilinear volumes that separate the living areas from the private quarters, and a third volume that functions as a guesthouse. The western red cedar and glass volumes harmoniously blend in with the natural terrain while bringing the beauty of the landscape inside.
With a palette of naturally weathered woods, concrete, locally quarried stone walls, deep oak window jambs, soft plaster walls, and black steel accents, the house strives to be warm and rustic yet simple, clean, and open. A similar palette of muted woods, warm concrete floors and rich plaster textures is used in the private areas of the house. Despite the minimalist décor, the house was designed with the family in mind.