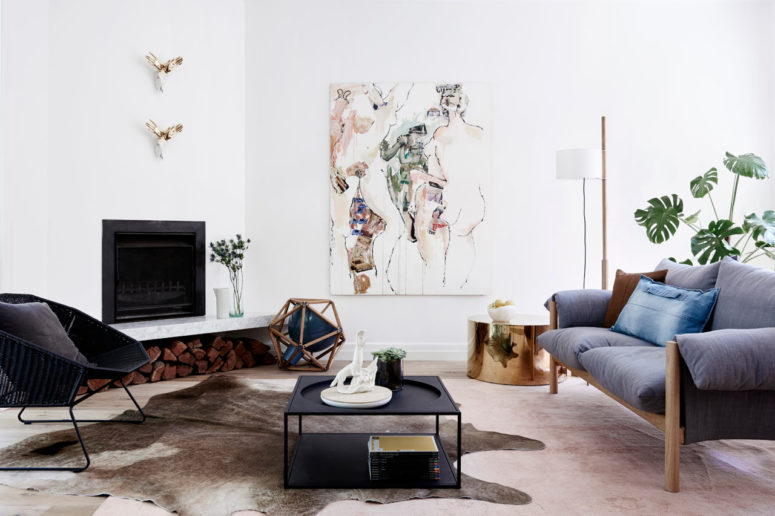 Northbourne Architecture + Design was enlisted by a young couple in Melbourne to renovate their house in an effort to make room for their unborn child. Instead of adding an extension, Northbourne was able to save the clients money by reconfiguring the existing floor plan and optimizing functionality, resulting in a cozy, modern home.
The décor is modern, eye-catching and creative. A new fireplace was installed above a marble hearth that doubles as a bench with storage for firewood underneath. I love the use of metallic and geometric touches in the living room, these are very trendy decorations and give a modern vibe to the room.
One of the clients' wishes was a lux master suite with an ensuite bathroom and walk-in closet, and the designers managed to realize this dream. The bedroom features light wood and is flooded with light, there are geometric touches again to keep the style. A bookshelf was built as a room divider between the bedroom and closet. The closet itself is relatively small but light-colored wood makes it look more spacious. The new master bathroom is outfitted with charcoal Japanese mosaic tiles, which contrast the white paint and fixtures.
The main bathroom doubles as a laundry room, which happens to be hidden behind bi-fold doors. Above the white cabinets and the ceiling are all painted black making the space feel larger.
The designers also create a nursery for the upcoming baby. This is a small cozy space with light warm woods, a large closet to keep the room tidy, a mirror nightstand and a faux deer head.