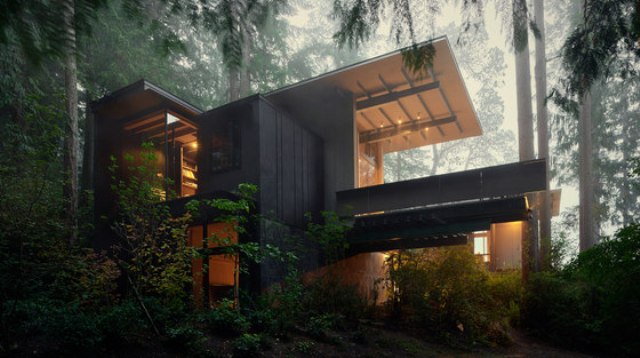 Jim Olson built a bunkhouse in1930s, and this house is the only piece that was left after the fire on the property. When he became an architect, he decided to add rooms to it and to renovate the cottage several times. The previous structure was integrated into the new one and here's what it is now.
The cabin consists of three tiny pavilions linked by wooden platforms under a unifying roof and the whole structure is grounded onto the hillside. More rooms were added with the course of time, and now the house is 2,400 square feet. The cabin is intentionally subdued in color and texture, allowing it to recede into the woods and defer to the beauty of the landscape. The materials used for the project are really simple: wood, plywood, recycled boards and steel.
The interiors are pretty simple, modern and rustic at the same time, with a lot of light-colored wood in decor, with plywood and concrete – such a material combo highlights that it's a woodland cabin. Every space features glazed walls, one or two or oversized windows to catch the forest views and help the owners merge with nature. There's much natural light in every room and wood makes them cozier and more inviting. A series of small terraces/porches help everyone enjoy the landscapes. Have a look at them below.