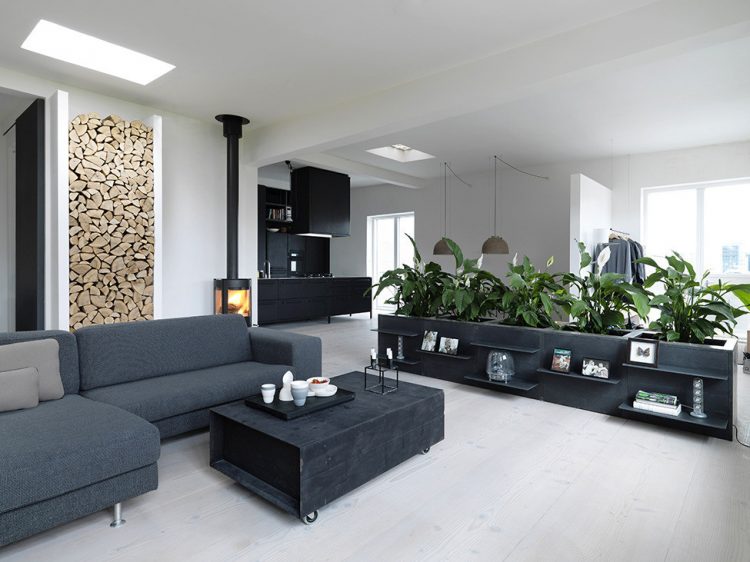 Homes belonging to architects and interior and furniture designers always stand out. Why? Because these guys buying a house or an apartment are trying to realize all their dreams in the best way possible, and they know a lot of means and ideas to do that in a stylish way.
Today's eye-candy is a home of chief architect of Vipp Design, Morten Bo Jensen, and this is how he sees his property. The spacious loft occupies an old factory built in 1900 and located in the industrial district of Copenhagen, Denmark.
The style of the dwelling is Scandinavian and laconic, the preference was given to functionality and simplicity in everything from architecture to interior decor. Not only the architecture but also the furniture was created by the owner, and he definitely has things to be proud of. The vast kitchen-living room space strikes with a contrast between all-white walls, floors and ceilings and black and graphite grey furniture. Just have a look at this black metal kitchen! Its laconic lines and shapes make it look modern, eye-catchy and not gloomy at all! Warm accents are made with cork lamps and some wooden tops, and the family zone can boast of a beautiful modern hearth with a cool firewood stand built into the wall. The owner wanted a functional but stylish space and so everything was decorated according to these principles, especially the library-home office room. The bookshelf wall behind the desk isn't only a practical piece, it's a part of space décor.
The property was decorated showing no only the professionalism but also the character of the owner, and it looks fabulous! Get more pics of this beautiful space below.