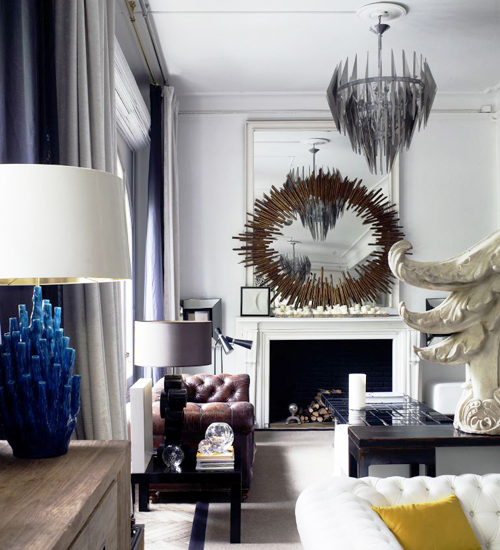 This stunning and unbelievably glam apartment belongs to Spanish artist turned interior designer Lázaro Rosa-Violán, and as we always expect that from creative people – his space is fabulous, refined, whimsy and breathtaking, it has its own character that is clearly seen from the decor.
The designer got an antique space, he opened up the 200-square-metre floor plan, created a bedroom with a wall made from mirror-panelled doors reclaimed from a Catalan palace, a guest room, a kitchen made up of antique cabinets, and a sky-lit bathroom in the place of the head quarters original reception area.
What I love is retaining the same oak paneling and stucco, they give that exquisite and chic backdrop that just needs to be highlighted and accentuated a little. The wood chevron-clad floor also helps to create a mood and make the dwelling more refined.
The designer filled the space with gorgeous sculptures, antique refined furniture and various modern glam items that work perfectly together. I totally love how the owner designed his bathroom: oak paneling up to the ceiling, refined wooden floor and a free-standing bathtub look awesome together.
The apartment is decorated with impeccable taste, it has its own personality and style, whimsy and refined. With a balmy Mediterranean climate conducive to outdoor living, Rosa-Violán, who is also a nightlife arbiter, takes full advantage of the 600-square-metre terrace.