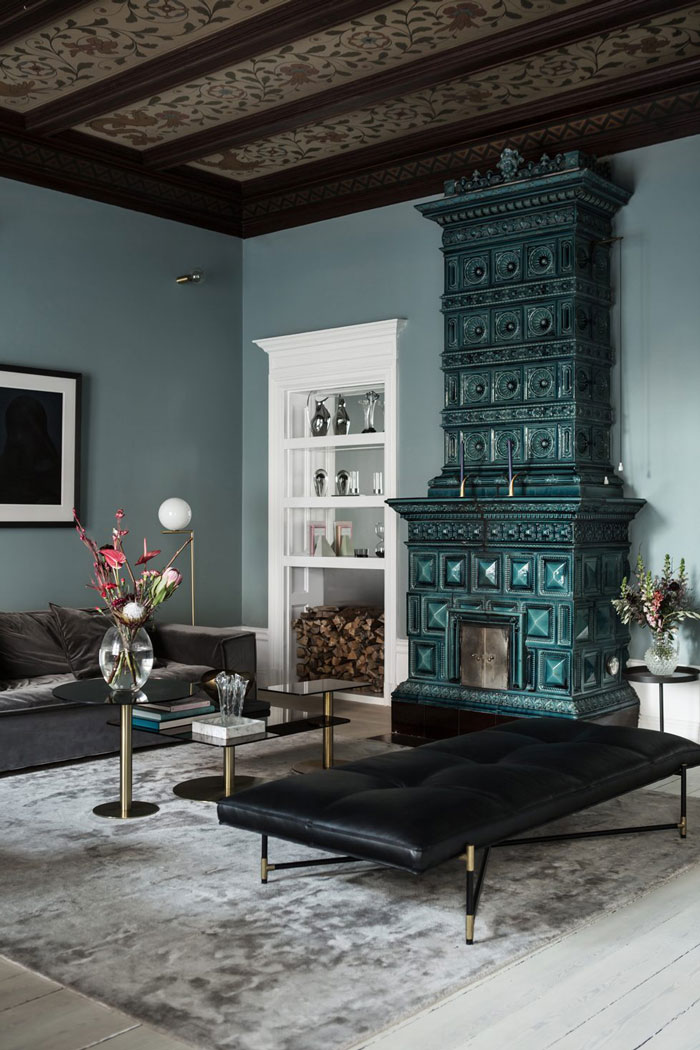 Petra Tungarden, who is not only the fashion and home editor for Metro a blogger, stylist and entrepreneur as well, designed her beautiful home in Stockholm. The apartment is decorated in Nordic style but with a glam feel, let's have a look at it.
The owner preserved some original features like a tile stove, stucco and stuff like that but the whole space was renovated. All the walls are covered in a shade of grey and blue, the floors are whitewashed, and the ceiling a vaulted one with patterns. Petra loves glam, and there are some touches of it – velvet, brass and marble here and there.
The living space is united with a dining zone, which is located next to the window and lit with light. A black leather couch, a velvet dark brown sofa and a combo with modern coffee tables at different heights look very elegant and stylish. The antique teal tile stove makes a bold statement. A comfy rug, a marble tabletop, a leather sofa and a tile stove create a cool combo of textures that looks eye-catchy.
The kitchen is dark and very elegant, the cabinets are stained very dark and the kitchen island is black and with gilded framing. The white marble countertops and backsplash make the space refined, and a gorgeous statement brass chandelier adds chic.
The bedroom is small, decorated in grey and soft shades of blue. There's an upholstered grey bed, beautiful moldings on the ceilings and gorgeous draperies, and industrial ceiling lamps create a cool contrast.
The bathroom is fully clad with white marble, which makes it refined and luxurious at once. Brass fittings add a glam feel to the space. The closet is small yet functional: there's a large black wardrobe and lit up built-in shelves. Get more pics of this beautiful apartment below!