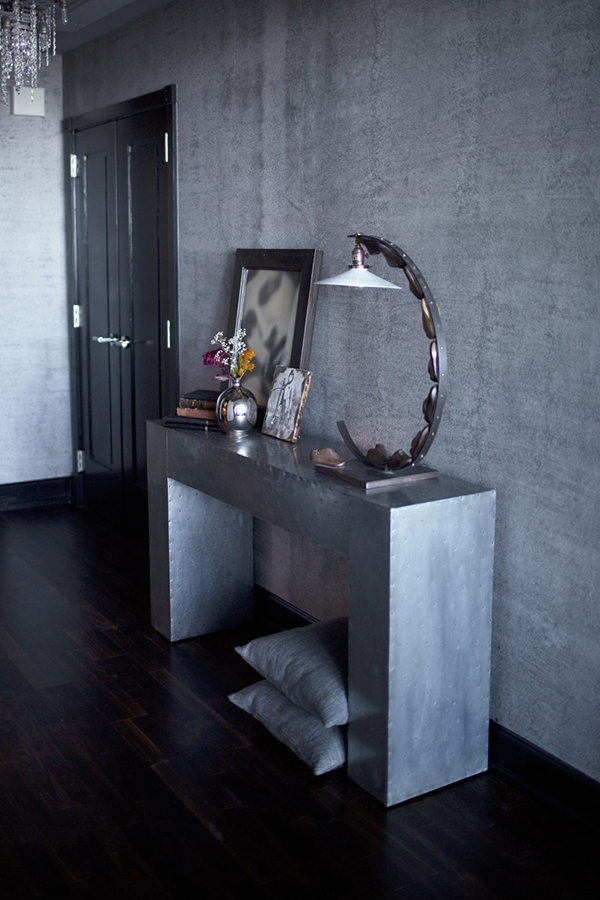 Ready to see something really different? This glam + gothic + industrial + loft in Los Angeles was designed by BAM Design Lab. This loft is super sexy and grungy with some of the coolest wallpapers I have ever seen.
The entryway is done with raw concrete walls, a metal console table and a glam crystal chandelier. The living room is united with a dining space. One wall is clad with metal panels and the second wall is covered with a dark watercolor artwork that imitates silver shining very successfully. The floors and walls are dark and to create a contrast, the designers implemented cream-colored upholstered furniture –  a sofa and dining chairs. The dining space is defined with sculptural black chandeliers. There are two skeleton high chairs in black next to the window that add a gothic feel to the space.
The master bedroom strikes with an amazing framed headboard that goes up to the ceiling. There's a black upholstered floating bed and a contour chandelier that matches the headboard. The second bedroom is done with very eye-catchy graphic wallpaper and a purple upholstered bed for a contrast. You can see interesting industrial lamps with several bulbs on the nightstand.
This home is very unusual and eye-catchy, created for those who love glam with a gothic feel and dramatic interiors and ultra-bold furniture pieces. The addition of industrial decor to some spaces makes them not so sweet and soft, and brings more eye-catchiness.