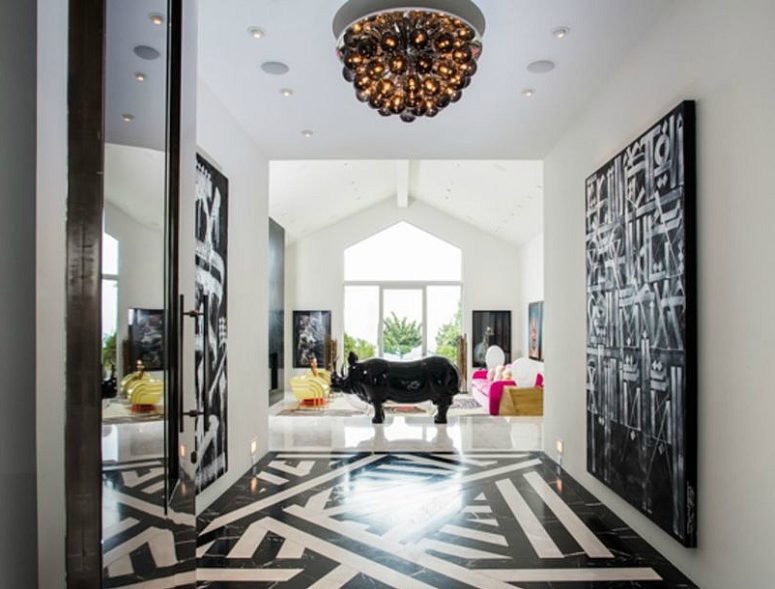 Gwen Stefani, who never seems to age like the rest of us, is selling her hilltop home in Beverly Hills called "The Summit." I love when a house looks like it belongs to the celebrity who lives in it, and this one delivers, with quirky-cool interiors designed for her by Kelly Wearstler. Let's take a closer look.
This home has it all including large pool and spa, tennis court, guest house with huge gym, theater, master with his & hers all facing view , privacy, seven total bedrooms, eleven bathrooms, extraordinary in every detail.
Some of the rooms look like they'd work as a backdrop for one of her music videos – so quirky they are. The living room surprises with a black marble fireplace wall, black and white floor patterns and architectural shapes of furniture. There are also many artworks and photos hanging here and there.
The dining area is done in black and white again, and here the focal point is a dining set in bold yellow, and a gorgeous glam chandelier.
The kitchen is done in black and white, which are actually the main colors of this house. I like the striped black and white walls, white furniture and a black marble kitchen island. All together they look unique and bold.
The large master bedroom is done in neutrals and black. The striking futuristic furniture seems to be made especially for this space, its unique shapes and looks just create the whole ambience. The bedroom has two separate dressing rooms, one for her, the second for him.
Even the marble clad bathrooms have great views, not to speak of other rooms, all the best is delivered inside with these large windows.