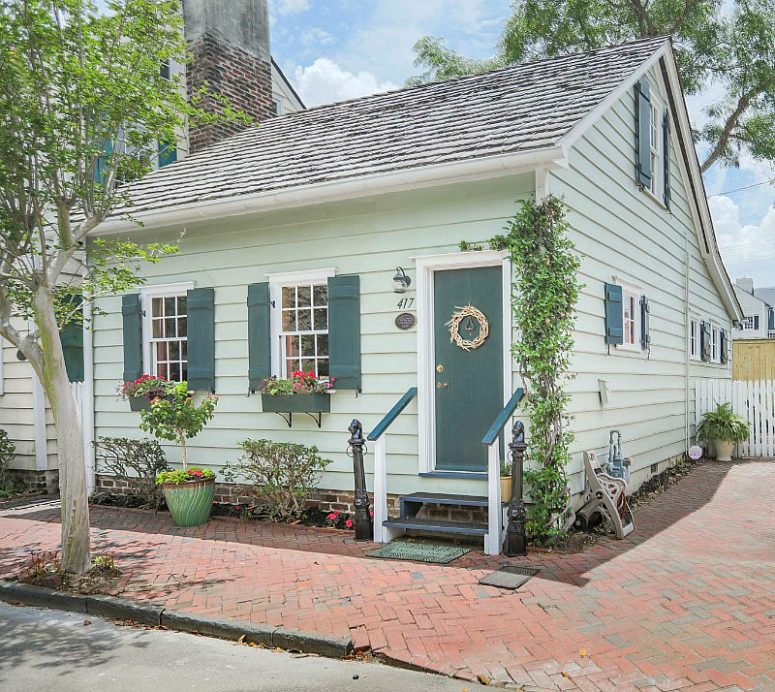 This little cottage in Savannah, Georgia, is listed on the National Register of Historic Places. It was built 200 years ago by John Ballon, "a free man of color." Nestled between Warren and Washington Squares, Freeman's Cottage features a picturesque garden patio.
The full bath has a walk-in shower and large wooden vanity. The bedroom is located upstairs and has a queen-sized bed you can relax into after a busy day of exploring. The beams in the upstairs bedroom loft are all hand-numbered pieces of tree lengths so during building they knew placement. The furniture here is a beautiful mixture of modern and vintage and creates a cozy ambience.
The beautiful wood used in the living area makes the space warm and inviting. The living room also features vintage furniture – a sofa, a couple of chairs, lamps, side tables and artworks. The room is filled with light and is opened to the kitchen, which shows off a gorgeous original fireplace. The kitchen is done in light blue and with stained wooden cabinets, and every new appliance you can imagine – comfort is the main point here. The small dining space is located by a glazed wall, which shows off the best views of the secluded private patio. Here you'll also see an elegant working fireplace with a metal screen.