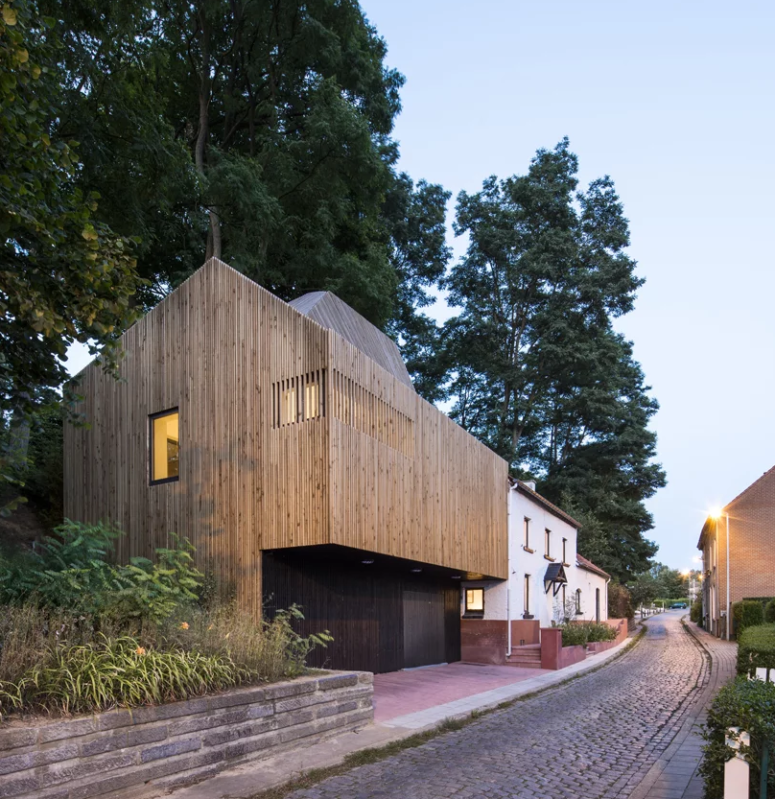 This 19th century long house in Waterloo, Belgium, was transformed by architect Louis Paillard into a lived gallery space for a pair of art collectors. The project comprises a wood-clad extension with views toward a raised park, which gives the impression of an urban barn.
The extension is an anamorphic, wood-clad house. Developed for a couple of collectors of art, the extension comprises space for contemporary exhibitions, as well as living areas, such as a bedroom designed as a cabin in the woods, as well as a study/library and lounge areas. Windows are mostly placed on the side of the garden, creating an almost blind street façade, while more windows are placed on the ceiling, contributing to natural and soft light for the exhibition space.
The inner décor is done in a neutral color palette, with touches of black and graphite grey for drama, it comprises a cool canvas for displaying any kinds of art. The furniture is modern and contemporary for a chic look. The master suite is totally different – it resembles a cabin, and this is unusual as public spaces and this private one differ so much. The bedroom is all covered with plywood and the master bathroom is done with pebbles and stone tiles. Take a look at all the spaces of this unique extension!