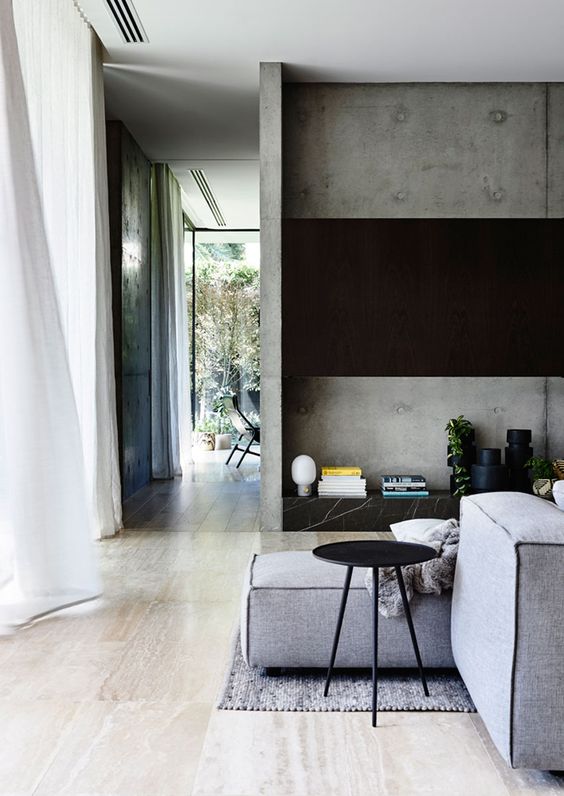 Designed by Workroom and built by Agushi, the modern form of Kooyong House in Melbourne, Australia is truly an idyllic urban retreat, that was the concept of the designers and it was realized.
It comprises a large white cement rendered box atop a ground-level glass and off–form concrete volume. I love the geometric sculpture of two cubes in front of the house, it creates a mood. The use of raw industrial materials like concrete and steel compliments luscious timber paneling and opulent stone surfaces, creating a warm and masculine ambience.
The house consists of five bedrooms, three living zones, study, gym and a four-car garage. The design fosters conviviality with an effort made for all the spaces to be connected to one another – be that between the living and functional spaces, inside and outside, or different levels within the house. The design intent has always been that each area is a small part of a whole, rather than an individual environment. This house is the sum of its parts, and not one part is more important than the other.
The garden, which literally engulfs the house, is the green, organic backdrop that breathes life into the house. The architecture and interiors work together seamlessly, while furniture, art, object and styling by Simone Haag, adds texture and scale. Each element of the house is chosen to compliment or contrast with one another, designed with the same level of rigor down to the smallest detail. This creates a sense of consistency and familiarity that adds to the depth of experience.