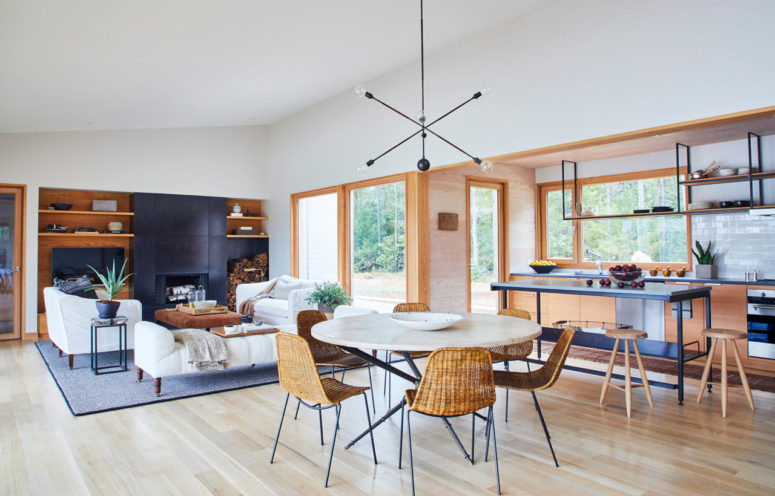 Splinter Creek is a Mississippi community that focuses on sustainable and comfortable living and the development just finished their model home. The design is based on the classic dogtrot layout with the main focus being on the view of the water and forests. The simple, timber-framed home was inspired by agrarian structures often found in the area.
Lots of windows were incorporated to ensure plenty of natural light fills the interior. The furnishings throughout are casual and prevent a cozy yet sophisticated space that's perfect for lakeside living. White surfaces make the wood details and floors pop, and the use of such materials plus leather and metallic touches add texture to the room.
The main layout consists of a kitchen, dining and living space. The space is decorated with light-colored wooden furniture, wicker touches, matte blackened metal and white upholstered furniture. The home office is done with a large vintage desk with a wicker chair and a comfy sofa where the owners can enjoy the views looking into a large window.
The master bedroom also features amazing lake views, a bed, a leather chair in brown and a rough wood piece as a sculpture over the bed. The guest bedroom is done in moody shades, with wicker drawers, antlers plus various textural textiles. You may also see an outdoor covered dining space with amazing lake views, wow! Get inspired by other spaces of this home below.