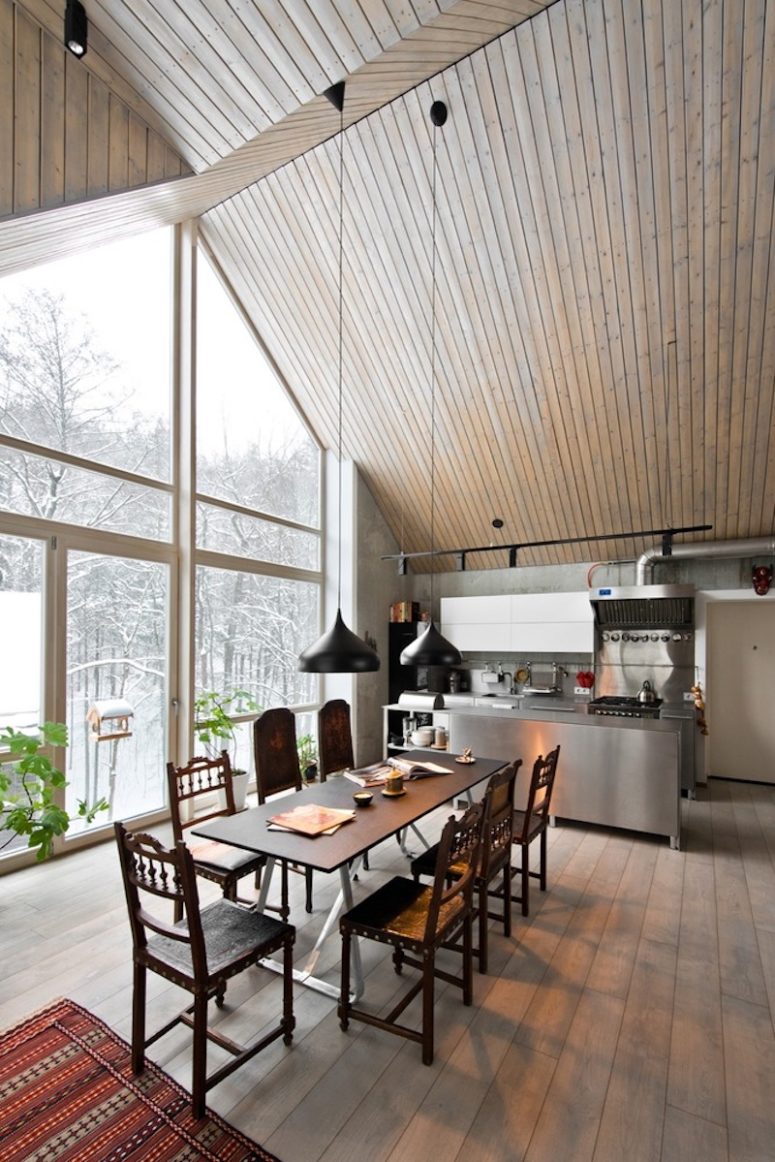 This Lithuanian house by Prusta doesn't have the typical characteristics of contemporary structures. The house combines contradictory trends and contrasting design elements and they look absolutely harmonious together.
Th materials used throughout the house include aged wood and natural wood with a gray tint, marble, stainless steel, glass, black metal as well as a variety of soft textiles. The color palette is done in warm tones to make the house more inviting. The spaces are kept uncluttered and comfortable, and the designers maintained a minimalist approach with a traditional twist. The furniture chosen is a selection of old and new pieces, a blend of modern, industrial and antique/ rustic/ traditional accents.
The open space living and dining area with the kitchen feature a sloped wooden ceiling and large windows to fill it with light and create that countryside house feel with an attic touch. The ultra-modern stainless steel kitchen contrasts the vintage mismatching chairs in the dining space. Carved wooden chairs echo with a large vintage wooden cupboard in the kitchen zone. The living room is done with a tall bookcase, a comfy sofa and a TV – nothing unnecessary can be seen here.
The master bedroom combines modern functionality with bold and colorful boho textiles, furniture and decorations. A raw concrete headboard wall, a wooden bed next to it, a large chest and some boho rugs look so unusual in one space! Get more pics of these unique spaces below!