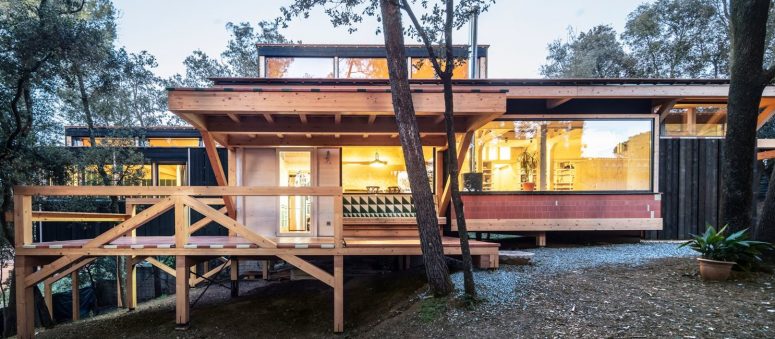 In a forest nearby Barcelona, a timber dwelling realized by Joan Poca Arquitecte discreetly protrudes from in between the trees. The design of BOSC HOUSE preserves the existing topography and seeks to establish a harmonious symbiosis with the surrounding natural environment.
In line with the concept of creating a subtle architecture, the design avoids a forceful, monolithic form. BOSC HOUSE instead extends and protrudes on various planes and is clad in blackened timber to blend into the forest. Raised off the ground, the structure is made up of laminated timber pillars that rest on metal piles punctured into the ground without the need for earthworks. These pillars continue into the interior, branching out into beams and braces and recreating spaces and widths similar to those found naturally in the forest outside.
The interior is characterized by the timber structure, with the natural grains and color of the wooden structure and CLT panels left exposed. To illuminate the space with soft, diffused light, Joan Poca has inserted high north-facing windows and openings under eaves to the south. the variation in the positioning of the glazed elements also aims to provide three types of views from the inside: distant views horizontally and through the tree trunks; high views to the tree tops and leaf canopies; and vertical views between the trees to see the sky. For the interior finishes, the surfaces and furniture pieces avoid becoming a continuous layer indifferent to the morphology of the spaces where they are placed.