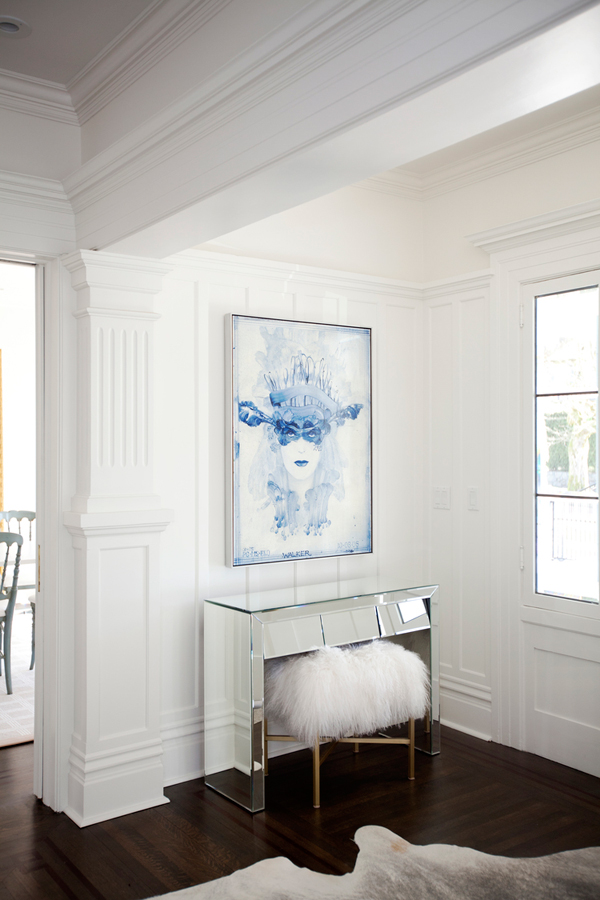 White is a perfect color for many styles and spaces because it's elegant, chic, timeless and it makes any space feel airy and spacious, even if it's rather small. If you like this color, you'll love this beautiful house all done in white, let's enjoy it.
The kitchen is traditional and all-white, white marble countertops add a luxurious feel to the space. There's a cozy modern eating area with a pendant lamp, some modern chairs and a round table, and pure white polishes this space, too.
Pure white walls and curtains make up a perfect backdrop for colorful items in the living room: there's an off-white and a brown leather sofa, pillows in blue shades, a turquoise ottoman and an animal print rug. Sprucing up this space with various colors makes it more eye-catchy and welcoming.
The dining room is made chic and bold with a contrast between white walls and ceilings and blue chairs and an oversized gilded frame mirror that takes a whole wall. Vintage blue chairs and an antique frame mirror contrast a modern chandelier, which adds interest to the space, too.
The master bedroom is done with light brown, beige and soft grey – these colors add eye-catchiness yet keep the room relaxing and welcoming. An upholstered chair, a large rug, curtains and an upholstered headboard make the space cozier.
These interiors show how to create white spaces, accentuate them right and make them welcoming and not cold, get more pics of them below!