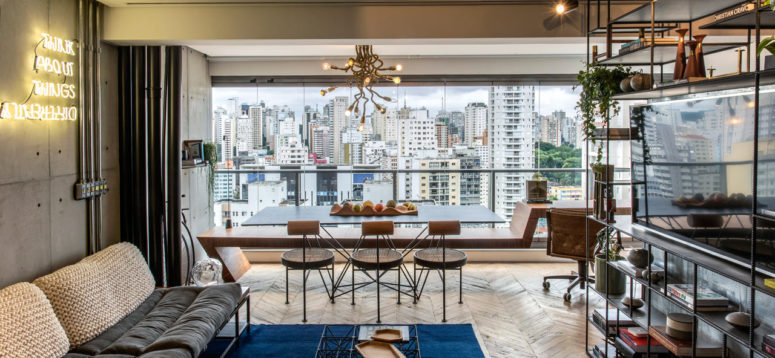 Mona Singal, architect/partner of Rua 141, and architect Rafael Zalc collaborated on an apartment in São Paulo, Brazil that desperately needed a new layout. Apartment RZ is a mere 50-square-meters which meant great detail was given to how the space was used, and we think that the architects did a great job while renovating it.
The balcony was enclosed to make more space and when the walls and framing were removed, concrete and metal pipes were left exposed. The original bathroom was enlarged by taking 30cm from the main space to make it more functional. The dining space was fully glazed to enjoy the big city views, and the bench was continued to become a cool custom desk, so a person sitting at it enjoys the views too. The living room is presented with a large sofa with an industrial feel, which is standing next to the kitchen island. The kitchen is compact and done with sleek black cabinets plus the bespoke kitchen island with a concrete countertop.
A floor to ceiling shelving unit made of rebar was constructed for both storage and to act as a divider between the living room and the bedroom. Those unfinished details became the basis for the design as they reimagined materials for different purposes, like the pipes in the chandelier, concrete slabs on the walls, rebar for the bookshelves, and a tarp to make the headboard.
The architects and designers managed to use each inch of space to advantage and got maximum of the views, here's a fine example of how to squeeze everything necessary in a small dwelling without compromising style or functionality.