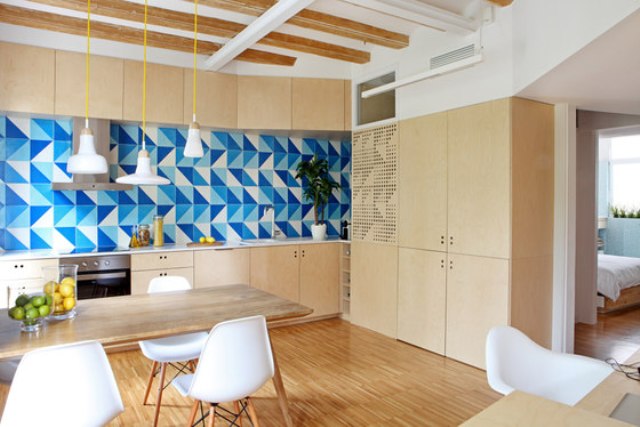 PISO PUJADES11 is a warm, fresh, luminous apartment, which through a series of quirks allows the owner to explore and maximize the space.
The apartment is a balance between social and tranquil space, the hub of life centering on the vibrant colors of the dining and kitchen area. Leading onto the living room, this converts to an overnight guest area, separated by curtains and reversible sofas. With an additional central bathroom serving the guests.
Stretching it's physical limits, this multi-functional bathroom projects light from three sources. The first, a general light which illuminates the hall and entrance through the bathroom's double heighted window. The second, another general light which projects light from the kitchen. And the third, a mood light through a perforated panel integrated within the kitchen furniture. Illuminating a mosaic in the evening and acting as a signal when the bathroom is occupied.
Positioned in the quiet inner courtyard, the master bedroom is the restful sedate space. A sanctuary from the stresses of city life, complete with an en-suite urban spa. Calming blues encase the spa area with the vivid greens of two planters reinforcing the feeling of serenity.
The refreshing warmth of the apartment is the result of a careful balance of materials and finishes. Fixed furniture of birch panels envelope the majority of the living space. With a rich layer of industrial parquet covering the floor. The vibrant blue mosaics and the hydraulic tiles of the gallery-spa refresh the feeling of comfort, which is enhanced by the cross ventilation between the facades. The lighting and acoustic system provide the option for a quiet mood lit romantic evening or alternatively a party atmosphere for friends or relatives.
The perforated handles with a nod to the marina, the reversible living room, the gallery-spa and the chaise longue escaping the confines of the living space. Design philosophies, inquisitive nature and playful desires are fulfilled.