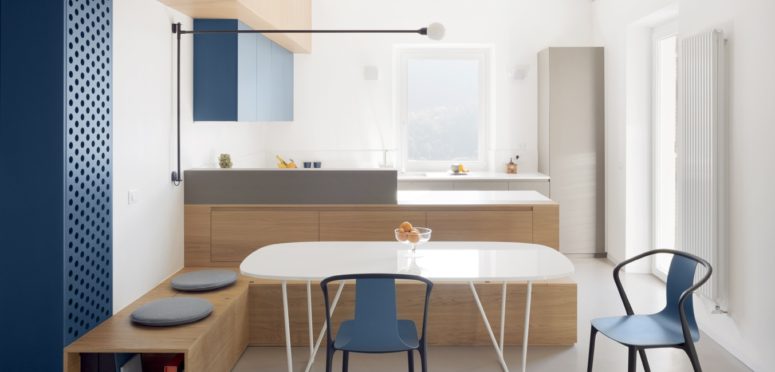 This apartment is located in the Italian countryside near Genova and studio Gosplan was asked to renovate the whole space and refurnish it to make the interiors functional and stylish at the same way. The studio succeeded in doing that and featured Japandi style and a muted color palette plus super functional furniture.
The main idea of the renovation was to open up the space, so Gosplan replaced half the staircase with a huge wooden volume consisting of a central line, one short arm and one longer. This way, the stairs became attic and stopped taking much space in the living room.
The bedroom is accompanied by a second bathroom and new amenities taking place of a former storage room and at the end of the corridor, a sliding mirror hides the master bedroom door. People enter the flat by a large living room with an open kitchen. There is no obvious distraction of routes within the property and only a short mirrored corridor leading to other rooms.
The whole project deals with few materials and colors. I'd say that the style of this dwelling is Japandi, which is a combo of Japanese aesthetics and Scandinavian style. The living room and master bedroom are covered in grey wooden floorboards, while the kitchen and the all other rooms have a grey micro-cement flooring. The furniture is custom made of natural durmast and colored medium density fiberboards.