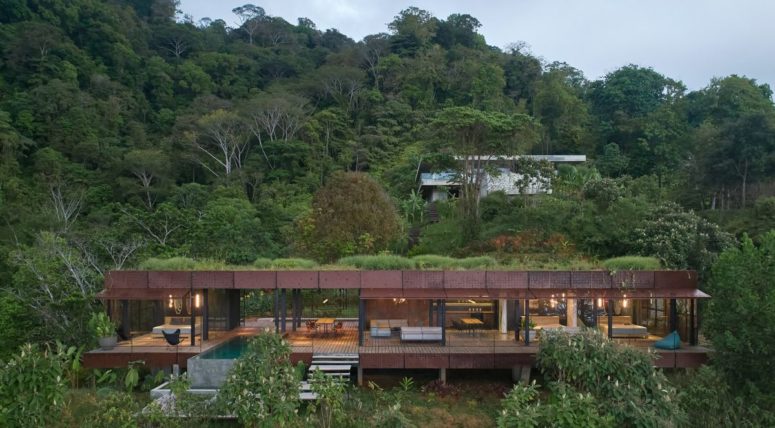 On a jungle hillside in Costa Rica, this luxury home quite literally blends with its wild environment thanks to a low profile and a green roof. The house built by architects Dagmar Štěpánová and Martina Homolková of Formafatal features an industrial façade and a serenely luxurious interior.
The exterior of the house is protected by a perforated rusted metal screen that filters the sunlight and helps cool the interior. At the same time, it is open enough that you can enjoy the views through the screens. The pattern in the perforated metal facade is specifically placed to maximize the views from certain areas, such as when lying in bed or sitting in the enclosed portion of the deck along the windows. The shape of the residence makes it easy to include moving glass walls and doors that can further blend outside and in.
All throughout the light-filled living space, elements feature clean lines and minimal visual disruptions to further promote a Zen and peaceful atmosphere that is fully focused on nature. Natural wood paneling on the ceiling is combined with industrial finishes to recall the exterior that melds the rusty, burned facade with the wild surroundings. Walls of windows face the ocean and jungle panorama, making the most of the home's spectacular location. Walls finished with an industrial look blend with the floors. which are the color of a natural concrete. Areas like the kitchen and bathroom are defined with a selection of tile patterns in muted, complementary hues. The home was created to break all the barriers between the outdoors and the indoors resulting in a simple and naturally focused home.