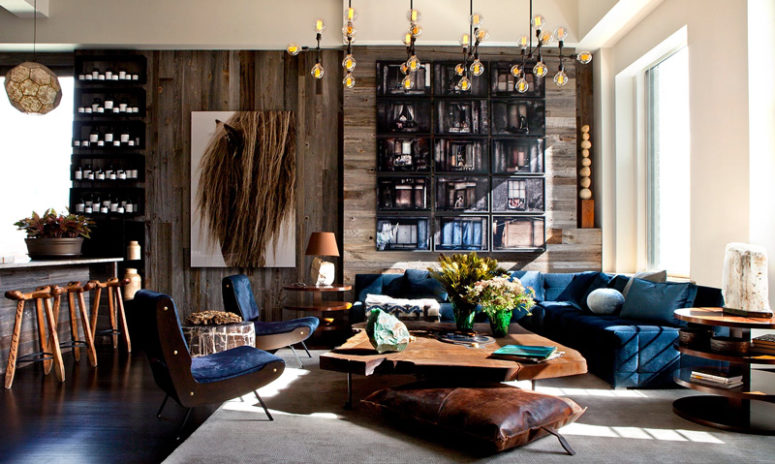 This loft by Huniford Design Studio is a unique place, you won't be able to take your eyes off the photos, I promise! A weathered wood delight with the most beautiful art gallery wall in the living room, with a sexy staircase, even sexier bathtub and a sweet rooftop patio….I'm seriously dying over this loft! Ready to see all the spaces? Let's do that!
The living room is decorated so that looking at it longer and longer you see more and more details. There's a weathered wood wall and refined navy and blue velvet furniture, which beautifully contrasts the wood and leather. A raw edge coffee table and a large leather pillow look chic and add texture to the décor. The lighting fixtures and a horse artwork make the space more personalized and unique.
The entryway shows off a cool staircase with weathered wood steps and a dark metal base. A rough wood bench and antler candle holders with a faux animal skin rug look very cozy and chic.
The kitchen, which is united with the living room, features weathered wood cabinets, black metal open shelves and cool faceted lamps over it. Rough wood stools add a warm touch to the kitchen and echo with the coffee table behind.
The bathroom is decorated with warm-colored wood, tiles and stone. Weathered wood panels and furniture make the space warm and inviting, and a wooden bathtub is a very trendy idea. Rough stone sinks and metal fixtures add texture to the bathroom.
Look at other chic spaces of this loft and get impressed!