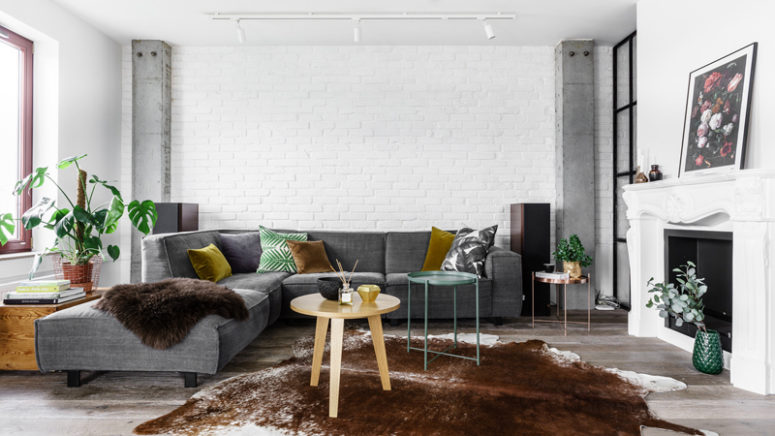 This soft loft by Polish designer Lucyna Kołodziejska is a home to a couple and their toddler. They wanted the look of a New York loft so concrete and bricks were exposed, vintage radiators and new flooring with a rustic look helped with the loft vibe, along with some vintage furnishings to outfit the there space.
The result has really a loft vibe. The living room features whitewashed brick walls, grey wooden floors and an amazing vintage-styled decorative fireplace. A large L-shaped sofa is grey, just like concrete pillar in the room. Stylish touches of green and copper make the space cooler, and fur gives some texture to the house.
The kitchen is modern, covered with concrete for a chic modern touch. The cabinets are sleek white, the kitchen island is very large and functional: it has a lot of storage space. the dining area is here, it's placed next to the window, and the dining space is wooden one with a rustic vibe.
The bedroom has a distinct industrial feel. Concrete panels on one side and brick-imitating panels on the opposite wall make it feel New York-like. The window isn't big but it gives enough light, and a potted plant enlivens the grey space a little bit.
A small home office features concrete wall panels, pallet storage and brick panels for an industrial touch. A purple sofa makes a bold statement in the office.
The bathroom is a mix of minimalist and industrial styles: white bricks, wooden floors and sleek countertops look very stylish together.
The kid's room is done in soft pastels with bold touches. There's a cool blue house bed, an accent wallpaper wall and a sunny yellow wardrobe. There are also some industrial touches here: lamps attached to the ceiling.