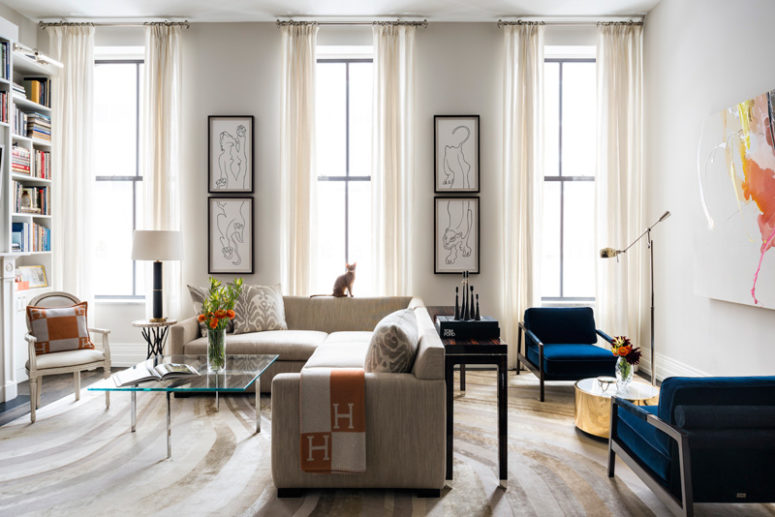 This Tribeca loft designed by Elizabeth Bolognino must be home to an art collector because art in various kinds is an important part and may be even a focal point in each space, let's take a look at them all.
The living room has double-height ceilings and is done in soft and warm neutrals. A bookcase takes one wall, some artworks are hung between the windows on the opposite wall. There's an L-shaped sofa, a couple of navy velvet chairs and a gorgeous glass coffee table. I also love a chic shiny gold coffee table placed between the upholstered chairs.
The dining space features a stone table on glossy metal legs, a cool ivory upholstered bench and a crystal chandelier. The focal point here is a gorgeous butterfly installation on the wall, really wow!
The kitchen is modern, with ivory-colored cabinets and a grey marble backsplash and countertops. Bold yellow pendant lamps accentuate the kitchen island, which has plenty of storage space and a breakfast zone.
The master bedroom accommodates an upholstered navy bed. There are dark stained wooden side tables and a dresser and one more stunning artwork hung between the windows. over the headboard there's another artwork, a graphic one.
The large bathroom is clad with white marble for a refined look. there's a large shower, a tub and a couple of sinks with a storage space underneath. Of course, there's a large photograph over the bathtub – this house just can't do without an artwork! Get more beautiful pics below!