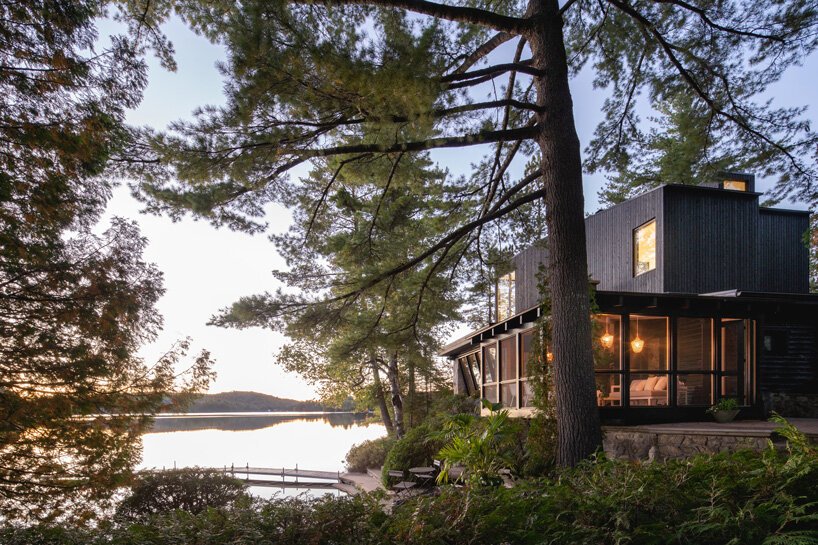 Paul Bernier Architecte has renovated a wooden cabin located by the shore in Lanaudière, Canada, and extended it to create an open, fluid, and bright residence inside. The proximity to the shore led the Montreal-based architects to plan the extension on top rather than on the sides, while only a screened porch has been added at the ground level.
Paul Bernier Architecte has combined two distinct eras into the final project: the original log cabin and the contemporary addition. The original cabin is rustic, made of stone and log, and topped with a sloping roof with wide overhangs. At the same time, the addition is designed as a clean and monolithic volume, but whose materiality and color echo those of the original cottage. The various breaks in the roof slope of the addition also reflect those of the old cabin. A certain mix of styles, with modern elements, can also be found in the original cottage, and this mix of styles and periods continues inside the house.
Through a large vertical opening on the east side of the top floor, the morning light enters inside and filters down to the lower level through the walkway floor made of translucent glass. A large window at the top of the stairs also acts as a skylight and offers a view of the sky as one goes upstairs. Last, the new screened porch installed on the south side, and fitted with 2 skylights discreetly inserted into the structure, offers another place to enjoy the outdoors.