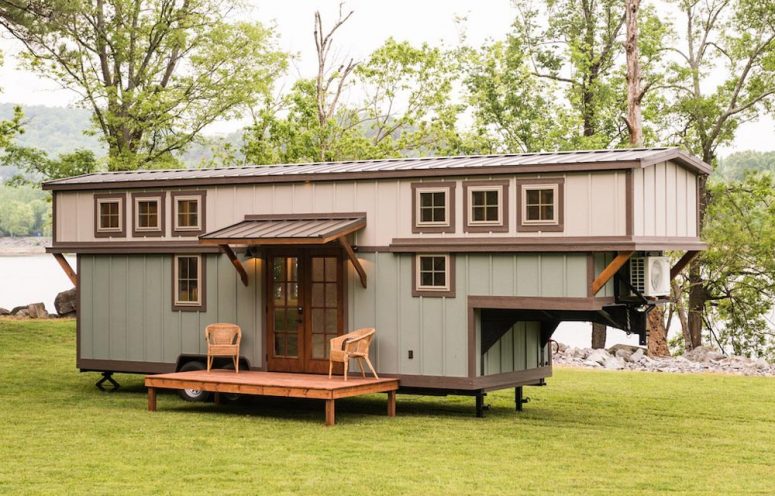 The Retreat is a craftsman-style tiny home that has a really inviting and cozy-looking design both inside and out. It was created by Timbercraft Tiny Homes and it is 37′ long. What you can immediately notice upon seeing it is that it's built on a gooseneck trailer, the type that attaches onto a hitch in the bed of a truck instead of at the bumper. That gives it this rather unique and unusual shape and accounts for the interesting layout inside the house.
There's a cozy living room, a kitchen, a bathroom and separate bedrooms. The entrance is marked by double doors with wooden frames and glass panels. When the trailer is parked, a small wooden deck can be attached at the front, with a little awning above the doors which provides a small area for enjoying the outdoors from. Inside, the house feels very cozy thanks to the pine flooring and dark-stained ceiling but it's also quite bright thanks to the white pine walls.
The kitchen is tucked into one side, featuring a freestanding gas range, a stainless steel full-size refrigerator generously-sized cabinets that provide lots of storage and plenty of counter space as well. There's also a small window centered on the back wall above the sink.
The living room takes up the central area, being furnished with a comfortable couch and a custom-built unit with an electric fireplace as a centerpiece. Then there's also the bathroom which has a tub, a toilet and a vanity and the loft bedrooms which can be accessed via a set of storage stairs and respectively a ladder. They're connected by a catwalk that goes over the couch in the living area.