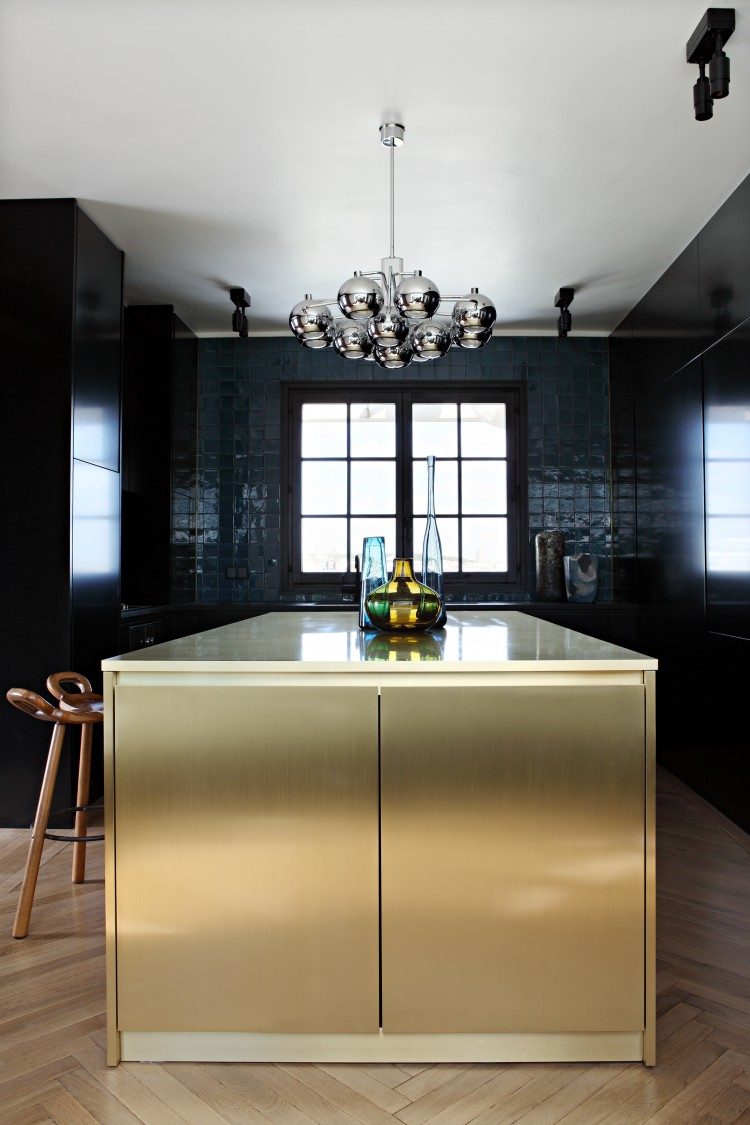 Architects Karl Fournier and Olivier Marty of Paris-based Studio Ko have made a name for themselves all over the world with their dramatic designs, but here the pair are in their home city of Paris, bringing their luxe mix of custom designed pieces and flea market finds to a sophisticated loft overlooking the rooftops of Paris. Paris is a city with its own refined and breathtaking style, and it inspired the whole design with 360° views of Parisian rooftops and monuments.
The inspiration for the design stems from both a modern Parisian lifestyle and an air of the ever chic LA Chateau Marmot. Imagined for a well traveled single businessman, the space's concrete features and dark sultry palette bring masculinity while shiny surfaces and rich velvets add a dimension of luxe. A combination of furniture sourced from Paris flea market Puces de Saint Ouen and custom designed pieces bring character to the space.
Every space of the loft strikes the viewer in its own way and with its own accents. I consider a rough metal industrial staircase the most exciting statement piece in the home, it's just so simple and so gorgeous at the same time and it blends with the surroundings perfectly. What would you say to an all-dark kitchen with a shiny brass kitchen island? So original! I admire the bathroom design with its tiny mosaic tiles, a graphic print wall and a metal sink, it's another contrasting place decorated with impeccable taste. The living room has a peaceful design with lots of warm-colored wood and calm shades but that bold red sofa changes the whole look and doesn't let the room look boring. Every room is decorated using some bold statements but they aren't too much, the designers found a perfect combo and amount of accents not to get a fussy interior.
On the whole, this Paris loft is a truly masculine space with unexpected details and cool touches, contrasts and lots of fun, any bachelor dreams of such a home! So have a look and get your Pin button ready for some cool ideas!