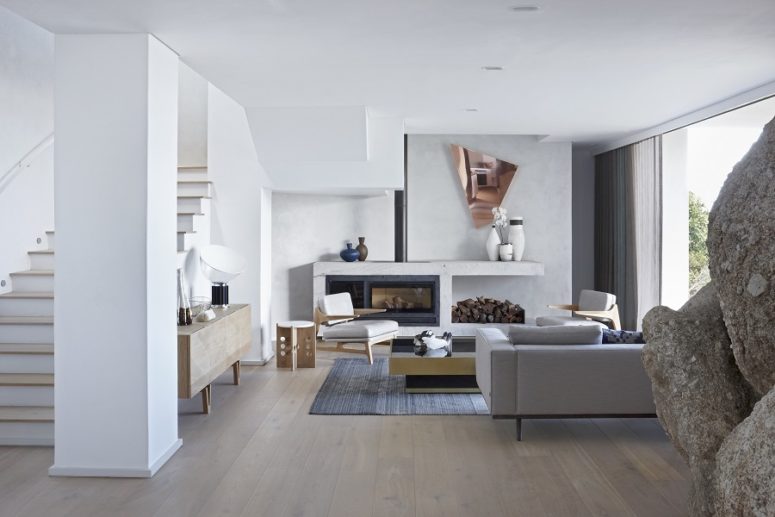 This South African house is called La Belle Vue, which means 'the beautiful view' in French and it's true – the views that are provided from each point of the house are spectacular! The house was built by Bomax architects and OKHA interiors to catch the amazing views of both the mountain and ocean and even bring some nature inside.
Besides big windows framing the mountain and sea views, there are many extensive balconies and terraces both at the front and back of the building, which also help to enjoy the views. The whole house can be unzipped across the entire front façade to breathe the sea air and bring in sunlight.
The interiors are minimalist but there are many touches of African heritage: most of furniture is designed to express that and even the front door was inspired by traditional African motifs. Inside you will also see a very surprising touch: a giant granite boulder remains was added for the seamless integration of the indoor and outdoor environments.
The finishes and color palette of the interiors were inspired by the beach and ocean, which aren't far from the house and can be clearly seen. The lower level is rather minimal, almost Scandinavian, and the entertainment level is done in earthy shades that are characteristic of African spaces. The materials like etched raw oak, vintage leather, satin brass and granite were used to create a timeless elegance. The overall energy consumption and thermal performance of the house were improved due to the usage of sustainable building components.