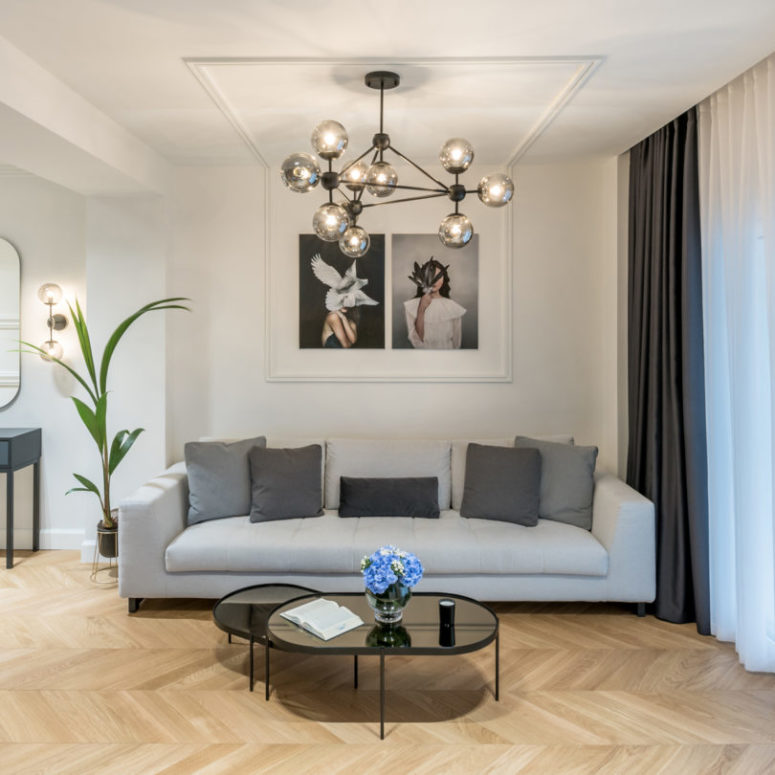 A young couple in Serres, Greece hired Normless architecture studio to renovate their 115-square-meter apartment to make room for their newborn baby. The apartment, in a 1970's building in the city center, didn't function the way the homeowners needed it to, leading the architects to design a new layout that gave more separation between the public living spaces and the private bedrooms. The resulting design merges the couple's classic tastes with a minimalist aesthetic that offers them the utmost functionality.
The kitchen is now united with the living room in a single open layout, which is separated with a large kitchen/dining island with a wood surface for cooking and a marble one for eating. The kitchen itself is white and the backsplash is done with white marble tiles that echo with the table. As for the living room, wood flooring in a classic chevron pattern provides warm texture that grounds the space. Contrasting colors in the furnishings and materials gives a more dramatic feel throughout.
The master bedroom is a peaceful space done in neutrals and with a muted blue accent wall for a touch of color. The master bathroom is clad with black marble tiles and with copper fixtures for an edgy look, and there's a closet next to it.
The nursery is one of the cutest spaces I've ever seen yet done with the same modern aesthetics. Creamy tones and greys, gold touches are emphasized with a slate grey/blue canopy over the crib. Get more of this beautiful apartment below!