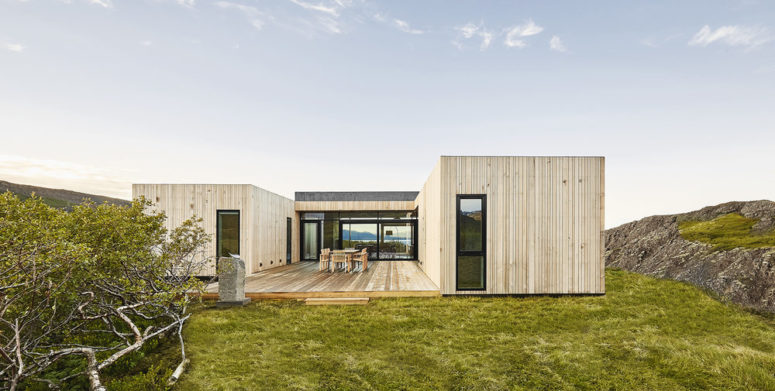 If you feel introversive and want to relax somewhere far from the big cities and people, this summerhouse by Gláma Kím in Iceland will strike you: Icelandic nature is a totally a jaw-dropping thing and the location of this home is right what you need to escape.
The house stands on a ridge by a deep and rugged gulley, surrounded by awe-inspiring scenery; a panoramic view over a lake towards a distant mountain range in the north, a steep rock face beyond the gulley to the east, and diverse mountain ranges to the south and west. The design aim was to frame the vistas from both inside and outside the house. The form and positioning of outdoor spaces also optimizes sun and shelter.
The building consists of three rectangular structures, arranged around a south-facing outdoor space. The central block houses the kitchen and living room. It is cast in black visual concrete, with large recessed windows to the north and south. It connects two cedar wood clad wings that contain the sleeping quarters and guest accommodation.
The inner decor is minimalist, it's done with stone, concrete, light-colored wood, leather and glass. The simplicity and minimalism is aimed at highlighting the stunning views and not to distract attention from them. Get inspired to escape from everyone!